Between Komeda and hip-hop
Female jazz vocals, the usual share of Komeda's music, and a fusion of jazz and hip-hop. A pledge to use a portion of proceeds to aid Ukrainian refugees. I bring you this year's edition of Jazz Era (Era Jazzu) festival.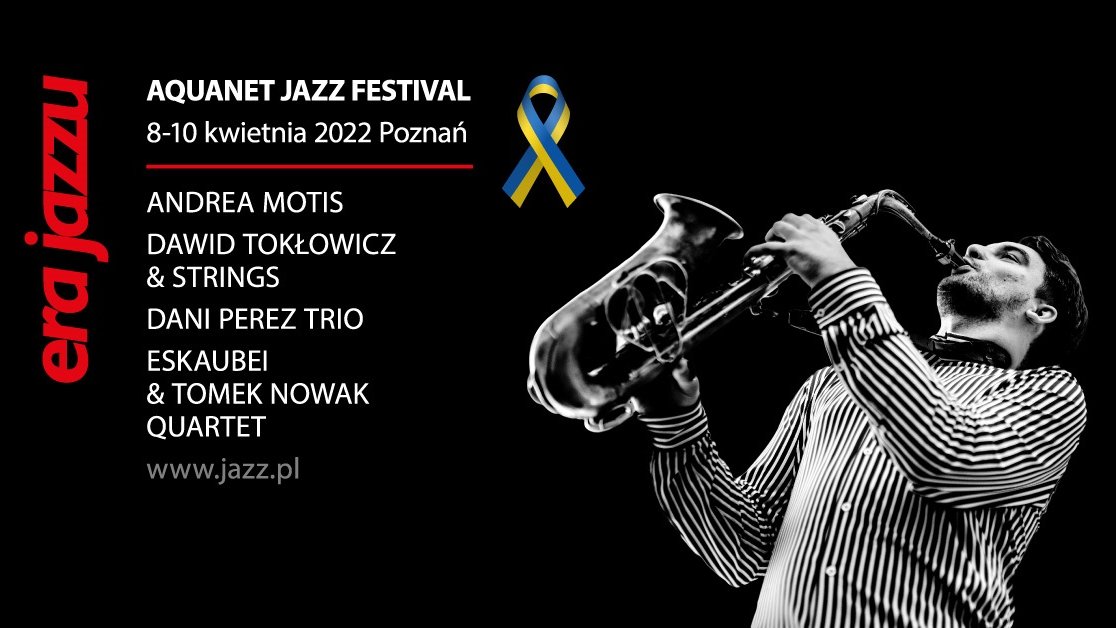 At only 26 years of age, with a dozen plus albums under her belt, some bearing her own name, some recorded with other bandleaders, the Barcelona-native trumpeter, saxophonist and singer Andrea Motis will be the star of this year's Jazz Era festival. Three years ago, a Jazzpress magazine review said this about Motis: "When she first visited Poland for the Green Town Jazz Festival in Zielona Góra, she was only 20 years old. Even then, she was hailed as an incredibly gifted artist, a true prodigy (...). In her shadow stands the Spanish double bass player, saxophonist and educator Joan Chamorro, founder of the youth Sant Andreu Jazz Band". It was in this ensemble that the artist learned the ropes of jazz. She made her first recordings with the band at the tender age of 14! Today she is signed by the renowned Impulse Records. The main purpose of her visit to Poznań is to present her quintet and graceful vocal approach to jazz in the AMU Auditorium.
It has become a delightful tradition to put a Krzysztof Komeda's music concert front and centre of each festival edition. This time around, Komeda's compositions will be presented by a trio led by the Argentinean guitarist Dani Perez. Komeda's repertoire and especially his film music are said to have been very dear to the guitarist's heart for years. The trio with share the stage with the Poznań saxophonist Dawid Tokłowicz appearing as special guest. Tokłowicz is a graduate of the Poznań Academy of Music, a winner of numerous competitions and the leader of Dawid Tokłowicz Quintet and the Robin/Tokłowicz International Project. He reveres the likes of Piotr Baron, Greg Osby, Miguel Zenon, Andrzej Olejniczak for their musical mastery.
Tokłowicz, who is a laureate of this year's Jazz Era Award, will additionally present his own project together with a string quartet. The band's repertoire for this year's festival features songs (some of them smash hits!) by the composers Jan "Ptaszyn" Wróblewski, Jerzy Wasowski and Krzysztof Komeda, as well as "world jazz and pop standards". Fusions of jazz and both classical and pop music have a long history. Tokłowicz and his partners are now trying to enrich it with a compelling chapter of their own.
Jazz & hip-hop is another combination that can hardly be deemed new. Such blends go back at least three decades when they were first invented by Miles Davis, followed by Michał Urbaniak and a few others. For many years now, the Euskabei ensemble, in collaboration with Tomasz Nowak, has been following in their footsteps. They released two highly acclaimed albums in the mid-2010s. This year, they are slated to appear in the festival's inaugural concert dedicated to Ukraine, their ticket sale proceeds to be donated to aid Ukrainian refugees.

Tomasz Janas
translation: Krzysztof Kotkowski
Jazz Era
8-10 April
Zamek (Castle) Cultural Centre, Adam Mickiewicz University Auditorium
For more, see: www.jazz.pl
 © Wydawnictwo Miejskie Posnania 2022