A place for dialogue and diversity
Remarkable artists from Tunisia, Iran, and many parts of Europe, including Poland and obviously Ukraine, will star in this year's edition of Ethno Port that promises to be exceptional.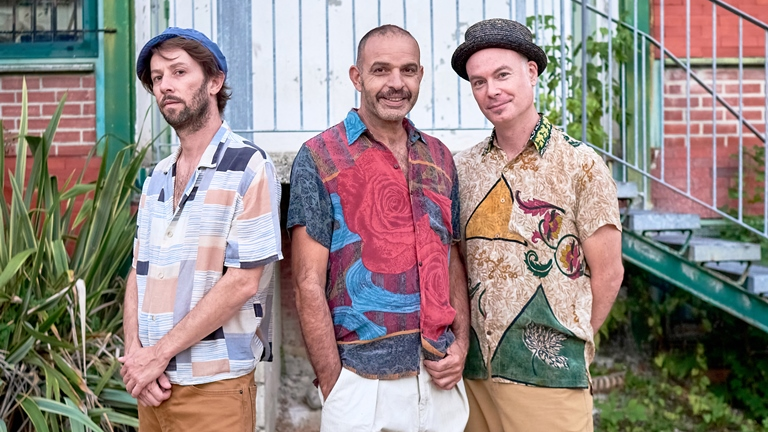 One of the best things to happen to the world two decades ago, in the summer of 2002, was the release of the album Les pas du chat noir by Anouar Brahem. Even then, its author, a Tunisian instrumentalist playing the oud lute, was well known to fans of historical interpretations and musical improvisation with a soft spot for traditional and contemporary chamber music. The album was of exceptional beauty, although both earlier and later works of this artist are absolutely superb. Brahem collaborated with artists from the Arab cultural community as well as outstanding European and American musicians, including John Surman, Jan Garbarek, and Richard Galliano. Almost every album involved a different set of collaborating artists. The latest to date, the splendid Blue Maqams, was recorded five years ago with such greats as Dave Holland, Jack De Jonhnette, and Django Bates. Anouar Brahem will visit Poznań with his quartet made up of the same musicians who joined him to record the fabulous album The Astounding Eyes of Rita over a dozen years ago. These are Klaus Gesing - bass clarinet, Björn Meyer - double bass, and Khaled Yassine - darbouka, bendir. I believe we are in for a stunning experience.
Purifying
Without a doubt, the achievements of the legendary Ukrainian group Drewo, which is also scheduled to appear in Poznań this June are of incomparably greater importance for Polish folk and ethnic-music-interpreting tradition. Two of Drewo's albums released by the then famous Koka label in 1998 and 2002, coinciding with the release of the former of the Brahem's albums I mentioned, delighted Polish audiences on many levels. Listening to the phenomenal a capella chants that revive the spirit of the vocal tradition, mainly of the Polesie and Poltava regions, is a cleansing experience and a respite from the noise of contemporary pop, as well as, for many, an initiation and a call to seek inspiration in Ukrainian traditions. Hence, this band, formed in Kiev in 1979, came to inspire scores of Polish folk artists.
Other aspects of the beautiful Ukrainian culture will be served up by the Hudaky Village Band. His vigorous mix of vocals and instrumentals is a blend of numerous threads. Hudaks is a name used for rural musicians on the Ukrainian-Romanian-Hungarian border. Echoes of those traditions intertwine in the band's music, further enhanced with a sprinkle of Roma and Jewish themes. The end result is a lively, unpretentious and colourful musical proposition.
A capella - and orchestra
One of Drewo's most evident and artistically outstanding influences on the Polish folk music scene is the work of the Warsaw-based band Dziczka. This is because Dziczka is headed by Tetiana Sopiłka, who formerly appeared in Drewo, and because over their fifteen years in existence, Dziczka built its repertoire and sound aesthetics on the aforementioned famous predecessors. Note also that the band features Maniucha Bikont, known for her folk appearances, and that the band's most recent album Pać features religious songs that allude to folk music recordings from the regions of Połtawa, Polesie and Podlasie.
Polish artists will also be represented at the festival by the famous and widely-recognised Karolina Cicha. This time around, she will present her latest fascinating project Karaimska mapa muzyczna (The Karaim Music Map) and the Warsaw-Lublin Brass Band.

Confrontations
There is no doubt in my mind that the festival audience will delight in hearing the Estonian band Trad Attack. When I first saw them live six years ago, they were described as "the future of folk" and one of the most exciting bands in their country. What has changed since is that, without losing any of their youthful spontaneity and uncompromising spirit, the Estonian artists have grown to become classics of European folk. Their music has the power to attract the fans of modern sound and performance. Trad Attack are not afraid to confront their work with electric or electronic sound.
The Ethno Port line-up also includes performers from other parts of Europe. The Sounds of Europe project is set to feature the high-spirited Michal Noga Band, who draw on Slovak folk, and the excellent, slightly eccentric Fanfara Station trio from Italy whose combinations of brass band and electronic sound are inspired by Italian and North African folk. The festival will also feature the exciting female quintet Atine made up of artists from Iran, Palestine, and France, whose creations utilise traditional acoustic instruments and are influenced by Persian and Arabic music, as well as flamenco, jazz and... baroque.
The values
What kind of an Ethno Port event can one expect at a time when a war is raging in Ukraine? The event's Zamek (Castle) Cultural Centre organisers say: "Our festival has never been a simple collection of concerts. Its meaning and message are more profound, based on precisely the values ​​against which the war is being waged on the other side of our eastern border. After all, in the world of aggressors, there is no place for otherness and diversity. Their country leaves no room for freedom, openness, and curiosity about foreign cultures that are recognised as equal.
We have the duty to fight the "Putinisation" amongst us that invades our daily lives and may not always involve direct violence. We are obliged to fight the contemptible language of hatred and defend fundamental human rights, including the right to free and unhindered artistic creation." This will be a consequential festival.
Tomasz Janas
translation: Krzysztof Kotkowski
Ethno Port
Zamek (Castle) Cultural Centre
10-12 June
For more, see: www.ethnoport.pl
© Wydawnictwo Miejskie Posnania 2022