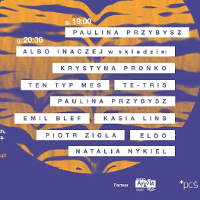 A very special concert indeed has been scheduled for 7pm on 4 September. Sponsored by the Mayor of Poznań, the event will be held on Lake Strzeszyńskie in the series #Na Falach. Dedicated exclusively to vaccinated people, the concert is conceived as a thank you to the local residents for acting responsibly in the face of the COVID-19 pandemic. 
The night consists of two parts. Part one features Paulina Przybysz and her band. Przybysz will return to the stage in part two when, after an interlude, she joins the Albo Inaczej (Otherwise) project that brings together popular artists set to present well-known hip-hop songs in new arrangements. The musicians are Krystyna Prońko, Ten Typ Mes, Paulina Przybysz, Te-Tris, Kasia Lins, Natalia Nykiel, Emil Blef, Eldo and Piotr Zioła. 
Admission to the concert is free and limited to people who are either vaccinated or unable to take the vaccine. All you need to enter the venue is a vaccination certificate (you must have it on you) or a statement certifying contraindications to vaccines.
Read also: Get vaccinated and get closer to the music