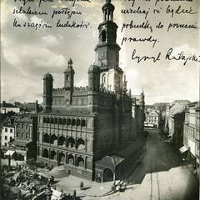 Exhibition: The birth of a modern city. Poznań in the years 1918-1929.
2018-11-18 ( Sun ) – 2019-02-24 ( Sun )
Muzeum Historii Miasta Poznania (Poznań Museum of History), Town Hall, Old Market Square 1
Memories from the Wielkopolska Uprising is the beginning of a story about the history of the city in the first ten years of regained freedom. Its end are memoirs from Powszechna Wystawa Krajowa (PeWuKa; Polish General Exhibition), the aim of which was to present the undertakings and achievements of Poles in the first decade of independence.
18 November 2018 to 24 February 2019 (open: Tuesday - Sunday, Monday closed)