Sensitive deconstruction
Hidden in the cosy space of a castle wing, the exhibition offers quiet time in which to face oneself and reflect on the questions posed. Not only the questions coming from its creator, Magda Hueckel, but also those that arise in the viewers' minds as they are confronted with her work. Hueckel draws on her personal experience to describe female strength, the natural course of life, being oneself and staying completely unfettered.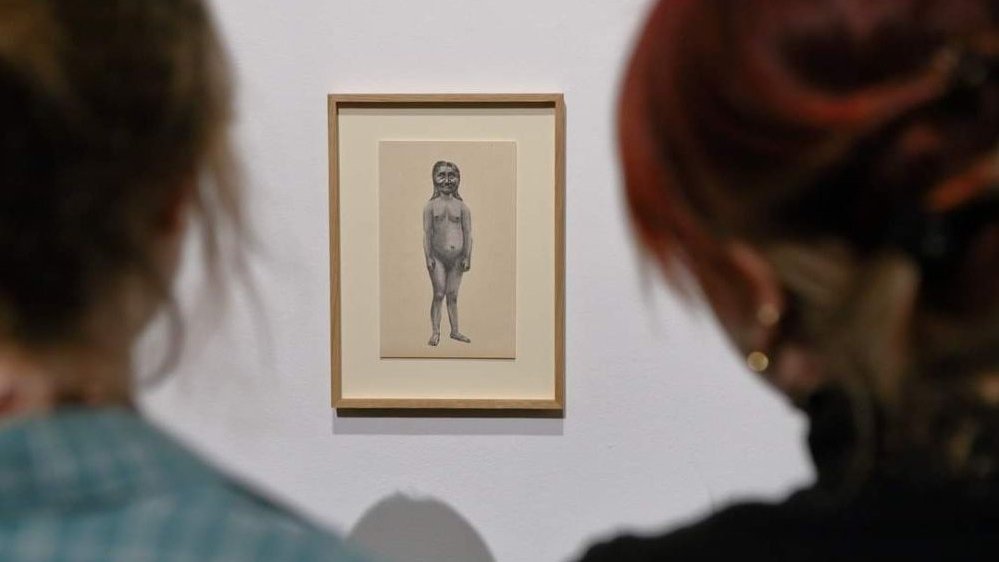 Central to Magda Hueckel's photographic work is the use of self-portrait in its various forms. Although no photograph in the exhibition depicts the artist's face in its entirety, I think one could consider the display as being yet another variation on the use of the self-portrait. The women portrayed here are us, and we are them. And that applies to every viewer.
I started my tour of the exhibition in the very back of the gallery. A painting there grabs one's attention as soon as one steps through the door. Made in 2020, it combines multiple portraits of women deposited in a medical archive in the 1970s. Hueckel used fifty images of women to create twenty-five photographs that she eventually put together. Each photo merges the halves of two faces, some worlds apart, others much alike. They feature profound gazes, smiles, eyebrows, wrinkles and... emotions. How much of their experience can one identify with? How much pride, weakness, strength, and doubt that has been part of everyday life for centuries do they contain? For me, the Maenads series is about wealth and community. It is direct, insightful, intriguing and, paradoxically, very personal.
My next stop were the showcases. In My Garden is the first series in which Hueckel relies on archives as a source not only of her inspiration, but also of her most frequently deconstructed materials. Another reason for their use is the fact that she has brought the collage back into her work. As a result, she made four delightful surrealist works that portray the cycle of life. Composed of engravings from botanical, astronomical and anatomical atlases, they sensitively depict the human body, and above all, its interior. The artist used the intense, juicy colours of engravings in incredibly well-thought-out compositions. She created a visual definition of life-giving, both by women and by nature itself. This is one of those works you never get tired of viewing. Every time you see it, you will find another detail adding new, previously undiscovered meanings.
The flanks of the gallery feature the Zhenshchina series. And although I am itching to tell you about the book whose discovery led to the creation of the collages, it is best that I let you explore it yourself. What is the book like? It may well be found to be disturbing, rebellious, and strangely... satisfying. And certainly worth learning about, including its final outcome in the form of the artist's works.
I have followed Hueckel's career since she started to write a blog on her son, Leo, who was born with a rare genetic disorder known as Ondine's curse. For those not familiar with this condition, let me say that the people it affects are at risk of having their breathing stop in their sleep. I rooted for the artist when, together with the film director Tomasz Śliwiński, who is Leo's father in his personal life, Hueckel created a very intimate and moving documentary about their daily life entitled Our Curse. I was happy to see the picture nominated for Oscar in the best documentary short film category. I was also fascinated to view Magda's photos of the performances and follow her efforts to raise awareness of how the curse is lifted. Looking back at this experience, I feel there is something very moving about her use of art to influence the world. Something that makes everyone feel welcome into her art. Not to have them praise it but to let them discover it, find a different perspective, be proud, have a sense of belonging, feel enraged, and find a dissenting voice. Magda Hueckel's (sensitive) deconstruction teaches us to be mindful and discern beauty in the detail. It also compels us to ask questions and find solutions beyond the obvious. And this precisely is where the great value of her work lies.
Marta Szostak
translation: Krzysztof Kotkowski
Boga, an exhibition by Magda Hueckel
PF Photo Gallery, Zamek (Castle) Cultural Centre
Open until 26 March (Tues.-Sun. 12 noon-8 pm, Mon. closed)

© Wydawnictwo Miejskie Posnania 2023