Best of the Best!
A month after the cream of violinists battled it out during the Henryk Wieniawski International Violin Competition, Poznań will once again become the scene of a musical competition, this time among choirs. The Stefan Stuligrosz Polish Choral Singing Grand Prix Competition is renowned for remarkable contenders.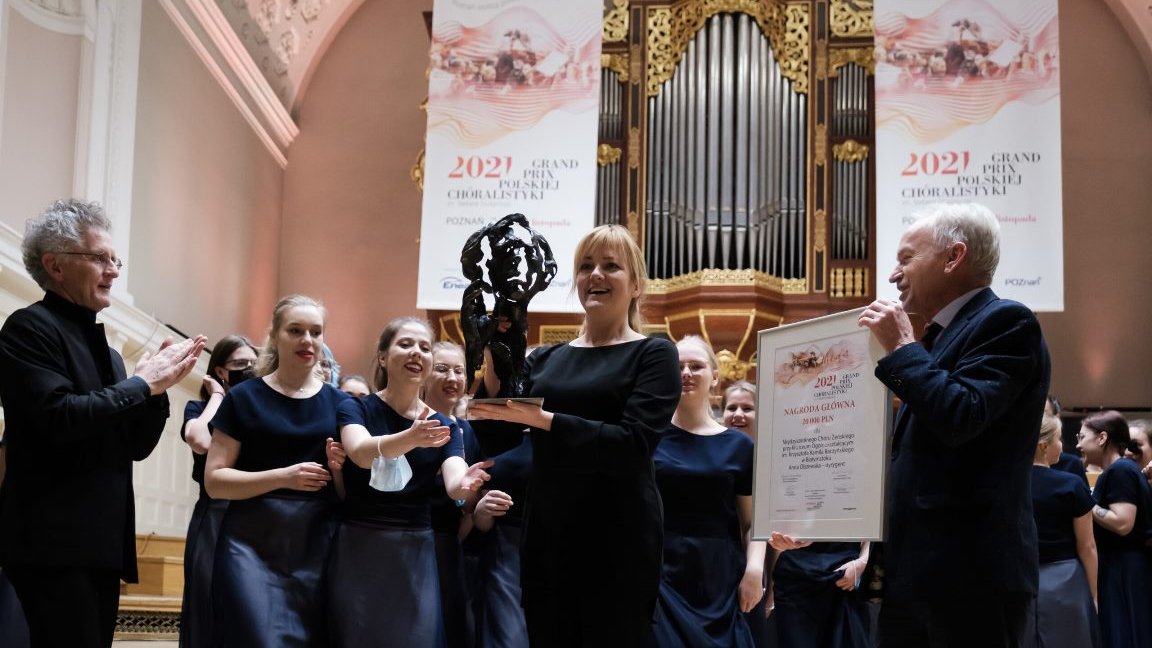 The idea is simple: attract the best choirs. Preliminary selection will take place in venerable national choir competitions in the towns of Międzyzdroje, Legnica, Barczewo, Rumia, Bydgoszcz, Bielsko-Biała and Łódź. Their winners will converge on Poznań in late November to joust for the title of the year's best of the best.
The first edition of the Polish Choral Singing Grand Prix Competition took place in 2018. This year, between 25 and 27 November, the event will be held for the fourth time. It is a unique opportunity to hear best choirs perform and reflect on choral music in Poland. This year is particularly special as 2022 marks the 100th anniversary of the birthday of the Poznań composer Andrzej Koszewski, who is among the most eminent 20th-century choral music writers. His prolific output is influenced by traditional folk music on the one hand and novel sound on the other.
The organisers have been inspired to revisit the composer's music by the round anniversary of Koszewski's birth. They will do so in events that accompany a Poznań Academy of Music debate to be held at 1pm on 25 November. The debate will feature prof. Lidia Zielińska, prof. Maria Koszewska-Wajdzik, prof. Krzesimir Dębski, prof. Jan Łukaszewski, and prof. Janusz Stalmierski as panellists and Ewa Mikołajewska as moderator. A workshop on the interpretation of Koszewski's music will be led by Anna Bednarska.
The competition's side events are additionally intended to appeal to contemporary vocal technique fans. Such events include a beatbox workshop with Piotr Jarosz of the band AudioFeels (at 10am on 26 November) and an overtone singing workshop led by Anna Maria Hefele. Equally exciting is a meeting with the composer Marek Raczyński who is also a group communication and management trainer and who is going to offer instruction on effective communication with choirs. Scores of main and side concerts will complement the programme. These include the Polish Schola Cantorum Gedanensis Chamber Choir and numerous Poznań area choirs and vocal groups. The side concerts will be held in venues across Poznań during the week preceding the Grand Prix proper.
Grand Prix auditions are scheduled to commence on Sunday, 27 November in Adam Mickiewicz University Auditorium. The auditions as well as the winners' concert can be seen live (free admission, seat reservation required) or on the Grand Prix's YouTube channel set in top-quality audio and video. May the best contenders win!
Aleksandra Kujawiak
translation: Krzysztof Kotkowski
Polish Choral Singing Grand Prix Competition
25-27 November
Admission free, seat reservation required
For more, see: gppch.pl
© Wydawnictwo Miejskie Posnania 2022