Warships in the Citadel!
Enormous, fearsome-looking battleships alongside small, swift destroyers are placed at your fingertips, way inland and in fact in the very centre of Poznań.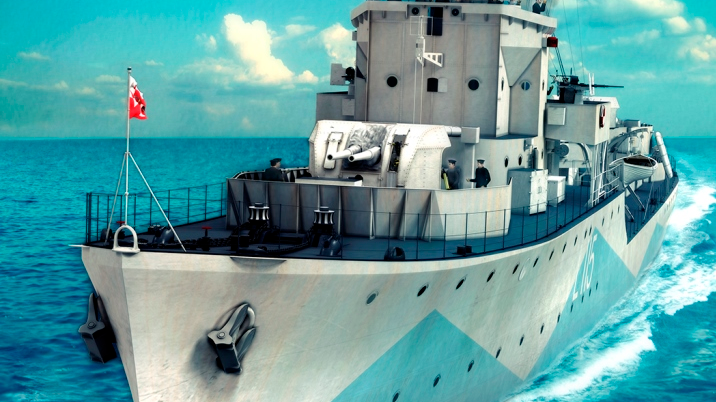 In August, the Armaments Museum at the Citadel has opened an exhibition devoted to a subject rarely explored in this part of the country. It brings to the public graphics of famous World War II warships rendered in three dimensions. They are designed for viewing with special glasses, which will be available in the Museum.
The graphics are authored by the Poznań native Waldemar Góralski, who has been painting best-known warships for years. His fascination with the sea began in his childhood when he stumbled across a book about a sea war in his basement and delightedly perused its photos and drawings of battleships. "I began collecting documentation, photos, designs, and technical drawings to paint them myself. I wanted my ships to look better than they did in the books I was reading. I wanted them to be as accurate as possible and complete with every details, down to every single rope, antenna, gun, and even screw and rivet", says the author.
For over 15 years, Góralski has been self-learning how to make computer graphics and render warships in 3D. Such images are very labour-intensive to make. You need a powerful computer with a high-specifications graphics card, and terabytes of storage. The ships shown in computer games, such as the popular War of Warships, are made of 200,000 triangles (the so-called polygons). In comparison, the ships drawn by Góralski contain 30 million polygons. His image of the German battleship Bismarck comprises an astounding 80 million. "It took me 2.5 years to complete Bismarck", says Waldemar Góralski.
Named Okręty wojenne 3D (Warships 3D), the exhibition features the Polish destroyers ORP Kujawiak, ORP Krakowiak and ORP Ślązak, as well as the famous, but unlucky USS Arizona that was sunk by the Japanese in Pearl Harbour. It includes the above-mentioned Bismarck and a model of the Polish submarine ORP Orzeł made for children and sightless and vision-impaired people. The model is meant to be touched and felt to give visitors an idea of its shape. A figure of a sailor in the same scale is placed next to the ship as an indication of the vessel's size.
The idea to hold the display was first floated over four years ago. The early preparations were made by the recently deceased head of the Museum of Armaments and the curator Arkadiusz Maciejewski. The current manager and curator Krzysztof Jankowiak has led the team in the final staging. Waldemar Góralski's 3D ships had been shown in the Naval Museum of Gdynia, the National Museum of Szczecin, and more. They have not yet been seen in Poznań.
Szymon Mazur
translation: Krzysztof Kotkowski
Warships: 3D exhibition
curated by Krzysztof Jankowiak
Museum of Armaments, branch of the Wielkopolska Museum of Independence
open: August 15 - December 31
© Wydawnictwo Miejskie Posnania 2021