Display of prominence
Polish 19th-century painting is unique indeed. While the art produced during the country's occupation was thoroughly patriotic, it was also highly diverse, both in its form and in the themes taken up by the artists. As a consequence, works from the period invoke all sorts of reflection: on art, on the role of the artist and on the stances taken by individuals and society during challenging times.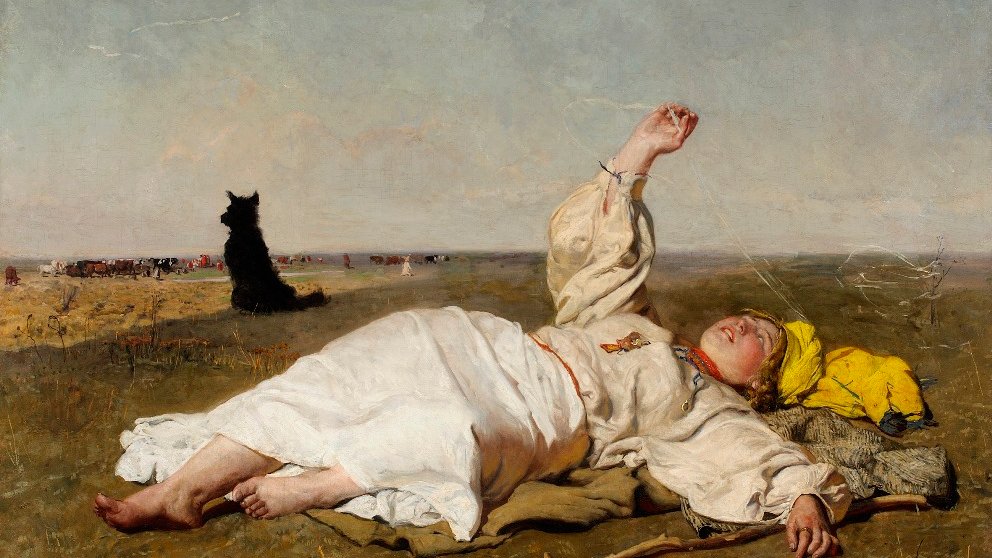 The exhibition "Poland. The Power of Images" is intended to present the works of the masters who put Polish 19th-century painting on the map, allowing us to appreciate its uniqueness in the history of Polish art. A notice about the exhibition of paintings from museum across the country (which is scheduled to be transferred from the National Museum of Warsaw to the National Museum of Poznań and put on view on 12 March) posted on the Warsaw museum's website, reads: "The exhibition sheds light on the role of Polish 19th-century painting in developing culture and myths. Works from the period not only reflected but also influenced the way Poles thought and saw the world". 
It is paramount to give testimony to this influence of Polish master painters. Such influence shows clearly that a work of art is more than a mere depiction that can be confronted with reality in its most visual form and cherished for the artist's skill and talent. Painting is also a tool for moulding social behaviours, generating ideas and more. 
The exhibition features works by Jan Matejko, a matchless exemplar of Polish historicism, who, inspired by the history of Poland, captured it on canvas in a number of dynamic multi-character compositions. Also on view are works by his disciples, Jacek Malczewski and Stanisław Wyspiański, whose inclusion in the exhibition comes as no surprise. We should all give some thought though to why we take it for granted. Is it only about their established position and the unchallenged unwavering belief that they belong in such an event? After all, works by these artists commonly populate permanent exhibitions in museums all across the country but then so do those by many others. Why exactly then were these particular artists selected?
It may well be that we no longer notice that these artists can still evoke emotions and offer insights into things that are essentially Polish. This is not only about history. Works by Wyspiański and Malczewski show just how different the two were from each other. The differences between those two and between them and their master lie not only in their technique and distinctive personal styles but also in their different approach to what is quintessentially Polish and national. Next to magnificent tributes to landmark events in Polish history, they have produced paintings inspired by religious, folk and social phenomena and by people's surroundings, because Polishness is also about the specific neck of the woods in which we live. 
Therefore, in addition to paintings by Jan Matejko, the exhibition "Poland. The Power of Images" features battle scene paintings by Wojciech and Juliusz Kossak, graphics by Artur Grottger, portraits of Olga Boznańska, and paintings by Leon Wyczółkowski, Witold Wojtkiewicz, Zbigniew Pronaszka, Ferdynand Ruszczyc and many others. The display's sections correspond to motifs in these artists' works. The Interregnum section covers art of essential importance for the collective memory. Equally solemn are paintings in the National Mythology section that evoke pride in being Polish. The Napoleon and Poland section also centres on history: it celebrates the Polish Legions, which constitutes another chapter in the collective memory that perpetuates the image of heroism and bravery. A number of other paintings testify to allusions by the likes of Jan Matejko and Józef Simmler to the work of the French painter Paul Delaroche. Delaroche was a precursor of historical painting based on the anecdote. Although not devoid of drama, his scenes stop short of monumentalism. The "Present-Day Drama" section explores the fates of individuals embroiled in "Big History", including insurgents participating in Polish national uprisings and political prisoners from various periods. "Community and Diversity" is devoted to ​​national solidarity extended to everyone, including peasants and workers, ordinary people whose work and lives set examples for upholding values ​​and community ideals. "Folk Roots" re-examines traditions from the Polish countryside. "Home as a Mainstay of Polishness" focuses on the home, and especially manors, as bastions of independence and freedom in which people's views and attitudes to life are forged. Then comes "Discovering Landscapes", and finally, "Young Poland", with paintings that not only take up national themes but also gravitate towards new formal solution: it is clear to see that the works they feature are examples of purely visual pursuits. 
Despite all its diversity, Polish nineteenth-century art has a common thread running through it that, although plain to see, can be difficult to label. Perhaps "Poland. The Power of Images" will bring more clarity on what being Polish is all about?
Justyna Żarczyńska
translation: Krzysztof Kotkowski 
© Wydawnictwo Miejskie Posnania 2021