Before everything became devilishly alike
"Despite all my scepticism, I too fell for digital photography in around 2000-2005. I can no longer imagine going back to the darkroom and the mix of noxious chemicals that comes with it", admits photographer Piotr Topperzer, whose photo exhibition "Danish Design through the Lens" will remain on view throughout December and January in the Grand Lobby of the Zamek Cultural Centre.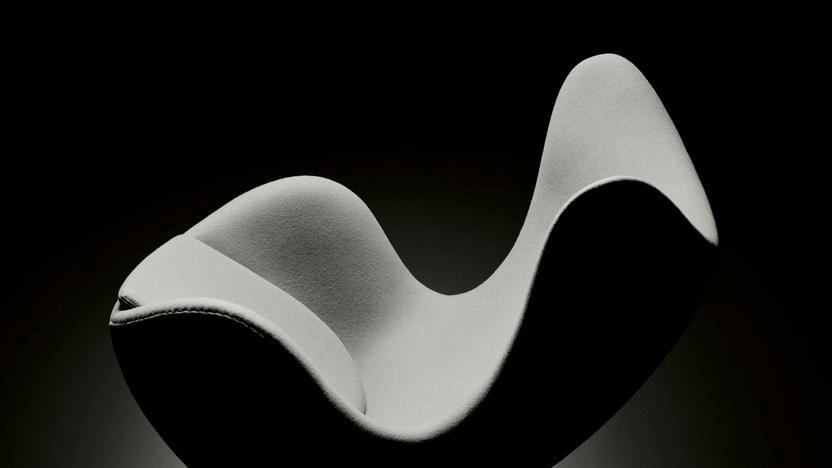 Most of the signature photographs of this outstanding artistic photographer are monochrome portraits of celebrity artists, photographers and musicians. Some of them have made the 2012 exhibition "Face-to-Face. Photographs by Piotr Topperzer" at the Museum of the History of Photography in Kraków (exhibited in Wrocław in the following year). The poet Ewa Lipska, the pianist Kenny Drew, the architect Claus Bonderup, the painter Peter Martensen... I must admit that I see his works as embodiments of the imagined ideal and as "iconic" portraits of these artists. It was as if I heard the works and the faces of these artists loudly and metallically click into place to instantly become one inseparable whole. One should add that the portraits are far from psychological (psychology appearing to be a cheap trick when employed in photography) and instead offer interpretations of the subject's public and private image and of the creativity that defines it. It almost seems as if up until the time Topperzer captured their larger-than-life personalities in this manner (as well as thereafter), other photographers would invariably fail to live up to expectations, unable to clear the bar raised sky high by the work of the subject. After all, remarkable poetry, magnificent music, unique architecture and one-of-a-kind paintings are all visual photographic sketches of their creators that require that special touch.
Although educated in linguistics, Topperzer found a path that later, during his foreign explorations, would lead him to discover that "special touch". "I left for Denmark in 1969 both willingly and under duress. Ever since I began working professionally, people have always been at the heart of my art. I made portraits of course, although soon enough my range expanded to include utility objects and industrial design", reminisces the photographer.
What is striking about Topperzer's commercial photographs is the subtle and yet compelling way in which he extracts the best features from applied art items to - quite literally - place them in a different light. We never get the impression that the pictures are made to sell us something. Rather, they are there to impart to us an admiration for objects characterised by, as the artist himself puts it, "a unique refinement, an accuracy, and an aesthetic of items made of superb materials" that are "utterly sophisticated". I could not resist asking him a somewhat naïve question that had bothered me on that occasion regarding parallels between photographing a man and photographing an inanimate object. His reply was: "I admit using many of the same tools to create a good portrait of a chair as I do making that of a person. The tools are lighting, space, composition and, above all, my own "narrative' about the object or person being portrayed as well as the history that it/he/she carries within. A combination of man and object also strengthens the expression of both the object and the person".
It is hard to believe that the photos on display are many years old. It is evident that Topperzer was simply too good and that he powerfully influenced advertising photography. And although he is already done making his mark in the world, he remains active. "I made portraits of people and (their) objects from around 1980 to 2015. Even today though, there are times I find myself unable to say "no' to a job offer," he confesses.
While reading Volume 4 of the "Report z emigracji" ("Emigration Report") series published by the Baltic Sea Cultural Centre, whose protagonist is no other than Topperzer himself, I came across a remark about a Danish photographer who helped Topperzer launch his career: "Many years later, I read a newspaper article about the photographer on whose door I knocked on his eightieth birthday. By my count, he was sixty years old when I first met him. Soon afterwards, he closed his atelier as this was the time (1969-1970) when glass film plates were no longer available for purchase and everyone was transitioning to celluloid production. He believed that celluloid negatives were no good and insisted on using exclusively the glass kind. Technological advances in photography put him out of business. (I actually know many photographers today who have been put out of business by digital photography. Unfortunately, the march of progress is unstoppable and there will always be people who are unhappy with its advances)".
I wondered how Topperzer himself felt about digital photography and what it is like today to be a commercial photographer who portrays applied art in a world of uniform global design having entered that business at a time when Danish design was still truly unique. "The advent of digital photography had a huge influence on commercial photography. It became a blessing as well as a curse. Suddenly, everyone could be a photographer or even a graphic designer. Fortunately, in time, the fascination with the new technology faded away proving again that it was not the camera, but us, people, that were making the shots. Unfortunately, now that most sofas or other furniture have become hellishly alike, photographers and their photographs tend to rely on similar if not identical means of expression. This poses a challenge for architects, designers and photographers", he explains.
Delighted by Topperzer's work with everyday items that are expensive, also in the sense of affording us extremely sensual feelings, I am somewhat bitter about the fact that the photographer could not visit Poznań amidst the insanity of Covid-19 that has been so devastating to culture. "Mainly because of the horrendous pandemic, I have chosen to live outside Copenhagen and to continue my photographic pursuits using my computer, monitor, printer and a few digital cameras," he replies. "The least I can do is visit the Grand Lobby of the Zamek Cultural Centre and feast my eyes on Topperzer's superb photographs to satisfy a hunger grown from the scarcity of cultural events."
Marek S. Bochniarz
translation: Krzysztof Kotkowski
Danish Design through the Lens of Piotr Topperzer
Curated by Bogusława Sochańska
Grand Lobby of the Zamek Cultural Centre
Open until 28.02.
© Wydawnictwo Miejskie Posnania 2020