CULTURE IN SLIPPERS: A mishmash of ideas before you return
Cultural institutions are gradually returning to normal. On 4 May, selected institutions, among them libraries and art galleries, reopened while observing proper safety precautions. For the time being, not all of the venues we used to visit to seek cultural experience will be accessible. And not all of us will dare to immediately return to those that are. To get you through this transition period, here is our final list of cultural recommendations you will be able to enjoy from the comfort and safety of your couch.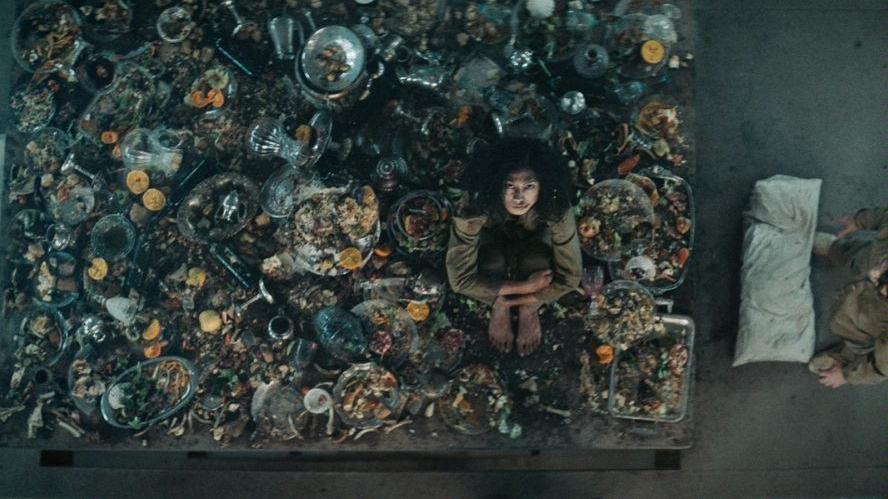 To make sure that the last instalment of Culture in Slippers does not bore you to death, I propose a diverse programme of activities ranging from the most obvious, i.e. literature, art and film, to some off-the-beaten-track fields such as interior decoration and fashion, all the way to... colouring books for both the young ones and adults (who are young at heart). Let's get started!
The circles of hell and of the show business
Although this series of articles has already given you scores of feature film and tv series recommendations to choose from, I have two additional Netflix viewing suggestions that I would like to share with the movie buffs among you at this last opportunity. The two movies couldn't be less alike. One of them, The Platform, is an unusual production that is extremely raw and depressing in both its content and its ascetic aesthetics. It tackles the greatest sins embedded in human nature: greed, myopia and selfishness. Directed by Galder Gaztel-Urrutia, the Spanish thriller shows diverse survival strategies adopted by the inmates of a very peculiar prison. The penitentiary is a tower whose multiple floors are successively reached by a descending concrete platform with food. The platform starts off carrying an abundance of eatables laid out in an elegant setting allowing upper floor "tenants" to have their fill. The lower it goes, the less food remains... Importantly, no one can be sure which floor they will find themselves on in the following month. The film offers a remarkable critique of human vices that could well have been taken straight out of a Pieter Bruegel painting.
A completely different picture and yet one that does an equally good job of revealing human flaws and weaknesses, is Miss Americana - a documentary about the life of Taylor Swift, a celebrity singer-songwriter popular with Americans and teenagers across the world. Next to the films Five Foot Two on the daily life of Lady Gaga and Homecoming about Beyoncé, Miss Americana is another excellent portrayal of life in the limelight, in full view of the public. It is a movie about coming of age and a transformation from a naïve piano-playing girl who's a fan of country music to a politically savvy woman who becomes a defender of women's and minority rights.
Top five regrets of the dying
This heading is also the title of a book by Bronnie Ware, an Australian blogger and composer who quits a despised bank job to spend years caring for terminally-ill patients. Even if you are not a big fan of such books, which are more of "lifestyle guides" than high literature, you can't deny they can stand their ground under scrutiny. They are stories of people who have found themselves on their deathbeds and look back on their lives in the face of the inevitable and who invariably have the same regrets: to have worked too much, to have devoted too little time to their friends and loved ones and to have been unable to live their own lives for fear of being criticised by people around them. Such books really make you think. Do you consider their conclusions to be obvious? If you truly and honestly reassess your own behaviour, you may find yourself guilty of the same sins. A perfect read after the race we had all been running came to a grinding halt two months ago.
Colour your stress away!
If this whole situation and the dangers of the pandemic still get you down, make yourself a hot drink, put on some chill-out music (I recommend the tried and tested Nora Jones and Eva Cassidy, as well as the equally unfailing edition of Polish Jazz Masters), sit back, relax and... start colouring. While, until recently, a set of crayons and a sheet of paper in the hands of an adult would raise eyebrows, the growing popularity of mindfulness and slow life has made the so-called "adult colouring books" sell just as well as those made for kids. After all, it has long been known that the best way to relax an anxious mind is to keep it busy with the simplest of activities. If you do not have your own colouring set at home, do not despair - the Dwie Siostry publishing house has made sure there are enough pictures to satisfy the whole family. Their website offers colouring pages authored by the likes of Piotr Socha (Pszczoły (Bees), Drzewa (Trees)), Piotr Karski (W góry!, (To the mountains!), W morze! (To the sea!) and Aleksandra and Daniel Mizieliński (authors of the cult books Mapy (Maps), Pod ziemią, pod wodą (Under Ground, Under Water), Miasteczko Mamoko (The Town of Mamoko)). So - print away!
Last but not least, take a look at the equally ambitious and very inspiring work by top interior decorators and designers. Their trade is also an art and one with practical applications to boot. It has the power to inspire many of us to transform our lives. Of course, all this comes in the spirit of acting locally, DIY and zero waste, these being the top trends of recent years. For best ideas, check out the Label magazine, which I am sure you will find to be chuck full of the finest designs.
Secondly, I suggest carefully flipping through either the oracle of fashion people around the world, i.e. Vogue magazine, which you can now access without limits (American edition and French edition) or Elle. So much for the present. If it is the past you prefer to look into, a wonderful journey down the memory lane has been offered by Ninateka, featuring rare documentaries on e.g. fashion in communist Poland and under the German occupation. So, start exploring!
Anna Solak
translation: Krzysztof Kotkowski
© Wydawnictwo Miejskie Posnania 2020