Crinoline: Fashion's Most Magnificent Disaster
When lovely Woman stoops to Crinoline,
she ceases to be Woman, and becomes a Monster.
"Crinoline for Gentlemen". Punch, 31st October 1857, 183.
Crinoline was a truly vital part of the clothing of nineteenth-century upper-class women. Their distinctive bell-shaped dresses supported on metal cages or whalebone petticoats can easily be spotted today in numerous period paintings, early photographs and costume movies. The trend, which originated in the 1840s, ran strong until the 1860s when dresses gradually grew flatter at the front and on the sides while being more protruding in the back, decorated lavishly with successive layers of fabric.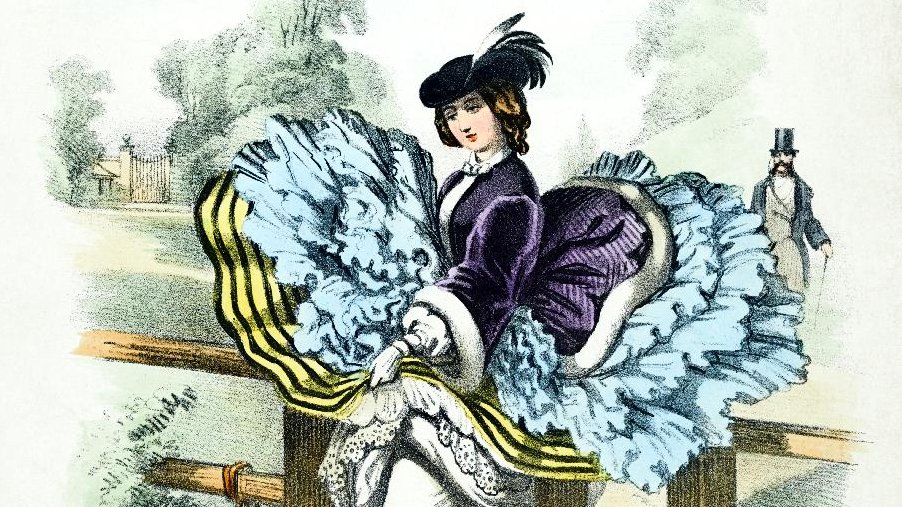 Viewed today as a symbol of this bygone era (and one that most people consider to be ludicrous), crinoline evoked powerful emotions at the peak of its popularity, its significance extending far beyond the world of fashion. Crinoline influenced morality and male-female relationships and sparked debates on women's emancipation. References to voluminous dresses can be found in a wide range of articles, satirical drawings and poems from over a century and a half ago.
Crinoline owed much of its appeal to the way it was made. Sewing machines helped mass produce dresses that were relatively affordable not only to aristocrats but also to lower-class women. As a consequence, crinoline trickled down to the lowest social strata. Even peasants mimicked Parisian fashion by producing home-made underskirts for their dresses, sometimes out of chicken cages. New trends in women's fashion prompted people to re-examine their views on women's place in society and inspired debates on their emancipation.
Some of the reasons that made "liberation by crinoline" possible were very mundane. It was, of course, unthinkable for nineteenth-century ladies to wear trousers, an exclusive attribute of men, so as to gain freedom of movement for their legs. Crinoline provided them with an alternative. On the down side, back in the 1850s, the press ran many stories of scandals erupting over the use of crinoline. The usual culprits were gusty winds, which were not uncommon on the British Isles as well as in other locations. A strong gale could instantly expose female legs revealing a view that was shockingly improper in the public space of Victorian England.
As fashion demanded ever larger dresses, crinoline wearers faced major predicaments. The sheer size of their outfits seriously restricted their movements. Buildings were not designed for such monstrously large attire. Women could not fit through doors and were often observed sweeping objects off tables and knocking them over due to their obscured view. Sitting too caused serious problems as it was not only uncomfortable but would also leave the outfits misshapen. To make things worse, highly flammable fabrics posed a fire hazard contributing to a great number of tragedies.
The trend faded away eventually as all fashions do. Women traded their voluminous dresses in for more practical garments. And yet, not all crinolines were relegated to closets. Every so often, a well-known contemporary designer revives the widened skirt. The good news is that you do not have to visit a fashion show to see them. All you need to do to learn more about the history of these unusual costumes is to view the photos on display at the stereoscopic photograph exhibition of the Poznań Fotoplastykon.
Marcel Skierski
translation: Krzysztof Kotkowski
The photographs on display have been provided with kind permission of Dr. Brian May's London Stereoscopic Company.
Crinoline - Fashion's Most Magnificent Disaster - an exhibition in the Poznań Fotoplastykon
Centrum Informacji Kulturalnej (Cultural Information Centre), ul. F. Ratajczaka 44
15.06.2021 - 30.09.2021; opening hours: Monday - Friday 10 am - 6 pm, Saturday 10 am - 5 pm, Sunday closed, last admission 1 hour before closing time
tickets: regular admission - 5 pln, reduced admission - 2 pln, family tickets - 10 pln, group tickets (groups of 10 or more) - 20 pln
© Wydawnictwo Miejskie Posnania 2020