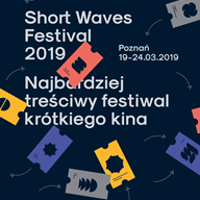 Short Waves Festival is the most concise short film festival in Poland. Its 11th edition will take place on 19-24 March 2019 in Poznan.
These six March days are a true celebration of short cinematography. Classic cinema projections, where the thrill will be delivered by competition and thematic screenings, will be complemented by additional events organized specifically for this year's edition that opens the second decade of festival's presence on the cinematic map of Poland and Europe.
The core of Short Waves Festival program is constituted by four competitions presenting unique, carefully selected short films from Poland, as well as international productions. Films are set apart on many levels, and joined by one requirement - to tell a compelling story in 30 minutes or less.
This year's International Competition is composed of twenty films marked by diversity, both in terms of genre and subject matter, produced on six continents; Polish Competition is a unique review of what's best in our native short cinematography: four features, two documentaries, two animations, one experimental film and one musical. Competition programs are complemented by two subject competitions that are not confined by convention: Dances with Camera - a set of eighteen shorts celebrating dance and movement, and Urban View - eight films by 11 filmmakers diving directly into the urban jungle.
The main motto of this year's festival - Outside the Box - refers particularly to the fokus program centered around short cinema of Southeast Asia. Three film sets were selected by our special guest programmer and Berlinale curator - John Bandalu. The fokus program encompasses 16 films from Cambodia, the Philippines, Thailand, Malaysia, Myanmar, Indonesia and Vietnam.
As usual, at SWF there is also space for experimentation. A unique experience - Kino Forma, this time entitled Deep Black Water, is a site-specific production presented in the Republika Sztuki Tłusta Langusta space; a film screening enhanced with special stage design and performative elements; a transmedia project that goes beyond borders of conventional film consumption.
Random Home Cinema project is celebrating its fifth Birthday this year - a set of cinematic house parties, events unique on an international scale. Atmospheric screenings in Pozanians' private apartments have been extremely popular among our attendees since their first edition - their program and location remain secret till the day of the event.
Short Waves Festival is also a wide selection of non-competition screenings. It includes Oscar® Nominated Shorts and European Film Award selection, thematic sections Cat Shorts, Rainbow Shorts, Girl Shorts, Dances with Camera: Germany Now!, a screening dedicated to children SWF for Kids, as well as a screening with seniors in mind  - Man Who Can. This year for the first time we are presenting a set of films from Oska Bright - the first film festival dedicated to filmmakers with autism, learning difficulties and other special needs. We will also be presenting a set of films for deaf and hearing impaired individuals Deaf Shorts, that will be accompanied by sign language.
Program here
materials made available by the organizers: Ad Arte Cultural Education Foundation / www.adarte.pl
read also: Outside the Box