We live in an age of war-peace
War and peace, the place of the individual in the world of global conflicts and other topics falling under the slogan "Army of the Individual" of this year's Malta Idiom will be discussed by Kasia Tórz, the festival's programmer, and Nástio Mosquito, the curator of the idiom.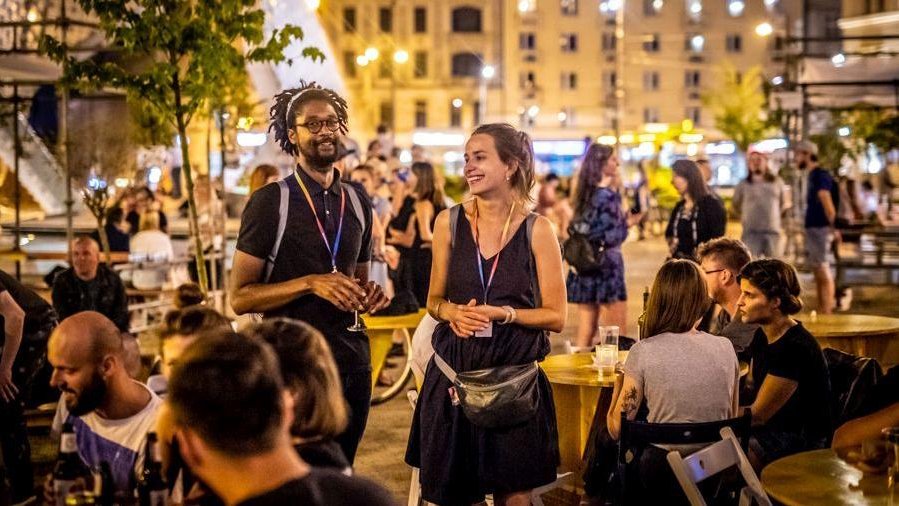 What has inspired you to invite artists to contribute to this year's edition of the festival?
Kasia Tórz: The artist line-up was selected by Nástio Mosquito. He chose artists who, in his words, are completely different from himself, whose work shows fragility and who create separate realities. Every year, in every idiom, we strive to feature artists who have never visited Poland, have an interesting story to tell, and come to share a piece of the world they live in - the world that surrounds them and influences their sensitivities and imagination. In the "Army of the Individual" idiom, we will see artists from many social, political and cultural backgrounds coming from Belgium, Portugal, Spain, Brazil, China, Angola, and Morocco. Their names are Kelly Schacht, Benjamin Abras, Lisbeth Gruwez, Alice Joana Gonçalves, Priscilla Rezende, Li Ran, Ery Claver, Vic Pereiró, Radouan Mriziga and of course Nástio Mosquito. The above are only their countries of origin, as many live elsewhere and do not consider their national identity to be their defining influence. What counts first and foremost is what they wish to share with us, the aesthetics they propose and the result of their meetings with Poznań audiences.
What is in store?
K.T.: All "Army of the Individual" artists expand their performance range daily. Therefore, the Idiom will not feature much of the kind of drama you would see on stage, which is the space intended for showing it. Instead, audiences will be able to take part in the Nástio Mosquito performative concert (which debuted at the opening of this year's Venice Biennale), Benjamin Abras' workshop inspired by the Afrobrazilian tradition of liberating voice from the body, the street happening of Priscila Rezende, the solo dance performances by Radouan Mrizigi, Alice Joana Gonçalves and Lisbeth Gruwez, and the immersive audio-visual installation of Vica Pereiró. A part of the Idiom will be a movie programme set to include the Chinese visual artist Li Ran and a review of Angolan cinematography, with films by Ery Caver, one of Angola's most celebrated young-generation filmmakers.
This year's festival focuses on tensions between war and peace. Can you tell us how you think they affect society and how art helps its members understand them better?
Nástio Mosquito: One of the things that seem to contribute to war or an unbalanced peace are the people who confuse their opinions and personal experience with actual reality. I appreciate being asked to share my opinion on this, but I have none... Art does not have to be rely on understanding. To me, art is about access, exposition, consideration, opportunity, and testimony. War and peace are well-suited for artistic expression but life is entirely different.
K.T.: We live in a time of war-peace, the two being closely intertwined. Therefore, the "Army of the Individual" seeks to restore a sense of agency and individual freedom in every person. Although the world lives by its own rules, governed by political systems, structures, and ideologies (which define armies and their discipline), we all have our own lives to live, and our own time in which to either do good things or passively succumb to the system. War and peace are two states between which we oscillate both in the global sense and through our personal choices.
A key issue to be raised at the festival is the place of the individual in the world ridden by global conflicts. What devices will the invited artists use to address it?
K.T.: Artists use their own practice and work with what is available to them: their bodies, their presence, their voice, and their image. Thus they create expressions that oscillate between poetic metaphor, stand-up comedy, abstract dance, image streams and many others, attempting to translate the experience of global anxiety and a destabilising world into their own original language and draw audiences into the conversation.
N.M.: This is a tough question, one that I fear may limit the perspective of the artists themselves, which is something I would be loathe to do. Their intention is not necessarily to test anything. Perhaps they were after something quite different? That is besides the point. I feel they will "do" something about it because that is what they have been asked to do. All of the invited artists open their hearts to create a more beautiful life. Such sharing is not a choice.
What do you think is the hardest part of creatively portraying aspects of war and social conflict?
N.M.: The very reason why we are portraying them in the first place. That is the hardest part.
K.T.: War is incomprehensible, it is hard to wrap your brain around its cruelty and absurdity. That is why people need art, whose language and methods are completely different from those of the media and politicians. Art heightens one's sensitivity, sharpens one's senses, broadens and provokes reflection, and penetrates what is hidden from view. The toughest part? Being desensitised to actual human drama in an ocean of content, messages, images, and real and fake news.
interview conducted by Julia Niedziejko
translation: Krzysztof Kotkowski
Kasia Tórz is the coordinator of the Malta Festival Poznań programme and co-creator of the Malta Idioms. She has graduated in Philosophy from the University of Warsaw and completed her post-graduate studies in Cultural Diplomacy at Collegium Civitas, European Atelier for Young Festival Managers. She has been published in Teatr, Notatnik Teatralny and Dwutygodnik.
Nástio Mosquito was born in 1981 in Angola; despite having lived in Europe for many years he takes vital interest in the colonial experience of his country and the war that has raged there for decades. His works have been exhibited in Tate Modern in London, MoMA in New York, and in museums, theatres and festivals across Belgium, France, Germany and Portugal.
© Wydawnictwo Miejskie Posnania 2019