Warsaw Sentimental Orchestra
It would be a simplification to say that Warsaw Sentimental Orchestra plays retro urban folk. It is a team of musicians which literally transfer its fans to the times of twenties, when hits of Adam Aston, Henryk Wars or Jerzy Petersburski reigned on Polish dance floors and in the Polish movies.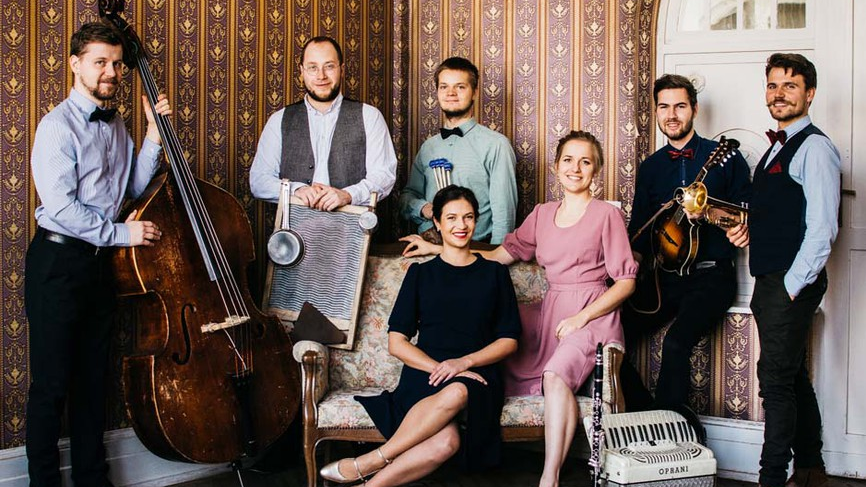 The group was established with a taste for the old, pre-war tunes and songs and continues the tradition of revue-style performances of dance and sentimental songs while maintaining their natural and timeless charm. Polish musical scene was missing precisely what Warsaw Sentimental Orchestra offers - performances of newly arranged inter-war hits which don't depart from the artistic heights of the originals. The septet has perfectly filled this musical void.
They made their debut at the "New Tradition" Festival of Polish Radio in May 2015, where they were awarded. After intensive preparations they recorded material for the album "Umówmy się na dziś", published May 14, 2016. In October 2017 they published new album "Tańcz mój złoty" and in December they released their Christmas CD "Śpiewnik kolędowy". In November 2018 they released their next album "Płyń Wisełko" about Polish soldier's life - in light and energetic vibe with an invitation to dance!
16 February, 7.30; CK Zamek (ZAMEK Culture Centre in Poznań), ul. Święty Marcin 80/82
Tickets: 35 pln (advance sale), 40 pln (on the concert day)
materials made available by the organizer: CK Zamek