Trolleybuses at turning points of history
Fifty years ago, trolleybuses disappeared from the streets of Poznań. On 29 March 1970, the last trolleybus line, number 103 from Ogrody to Smochowice, was closed. Why did Poznań residents call trolleybuses "a poor man's trams"? Is there a chance they might ever return to Poznań?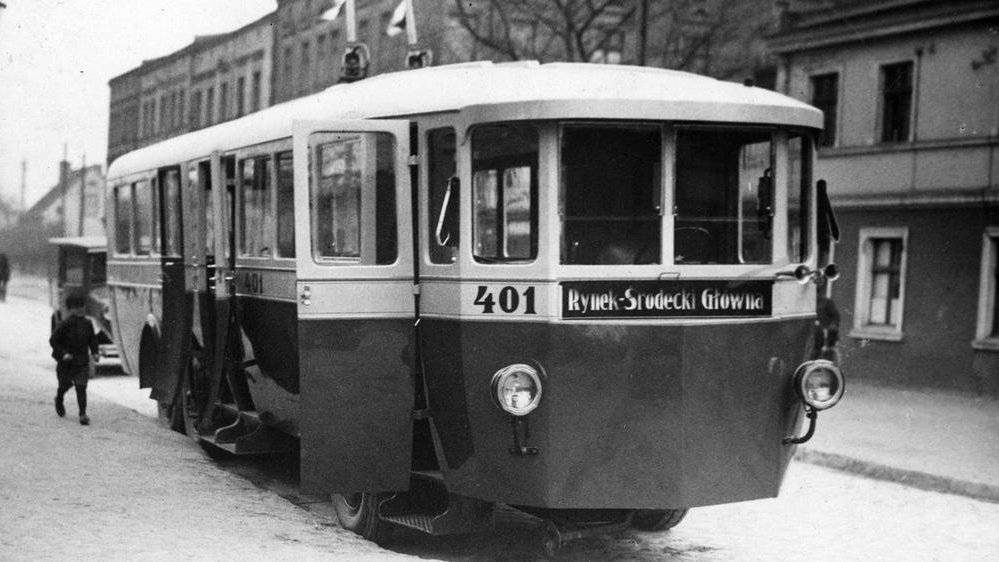 Trolleybuses are a means of public transport that combines the features of buses and trams. Like trams, they are powered by electricity collected from overhead lines but do not run on rails. Unlike trams, they have two electricity collectors (trolleys), which slide under electric wires suspended from poles. Like trams, trolleybuses are quiet and environmentally friendly. However, they resemble buses in that they share streets with other traffic, which makes them vulnerable to traffic jams. Many medium-sized cities in Europe and other parts of the world have made trolleybuses an integral part of their transit systems. In Poland, trolleybuses remain in service in Gdynia, Lublin and Tychy.
Poznań was Poland's first city to offer a trolleybus service to the public. It did so on 12 February 1930, when it opened a route of more than 2 km running from Śródka Market Square down ul. Bydgoska, ul. Zawady, ul. Główna and on to ul. Wiejska. The fare from ul. Główna to Śródka was 20 gr., while a ticket authorising the holder to transfer to a tram cost 35 gr. Poznanians, who had been riding horse-drawn trams since 1880 and electric trams since 1898, humorously referred to trolleybuses as "a poor man's trams": the vehicles looked like trams but did not come with tracks.
Poznań's decision to establish the first trolleybus line and then an entire trolleybus network was arrived at by cost analysis. While suburbanites needed a way to commute to the city centre, the cost of building tram lines over the long distances they needed to travel proved to be prohibitive. The trolleybus provided a sensible alternative. Overhead lines could be installed much faster than a complete tram infrastructure and could easily be shortened, extended or moved. In addition, the electricity used to power trolleybuses was cheaper than bus fuel.
Poznań's first three trolleybuses were purchased from England. The following two were built in 1933-1934 in a workshop at ul. Gajowa by converting 40-seater Renault buses. Trolleybuses maintained a steady presence in Poznań until the outbreak of World War II. They stopped running on 5 September 1939, the day power supply from the Garbary power plant was interrupted.
The Germans restored the Śródka-ul. Główna service two months later. They felt invulnerable in Poznań and assumed it would forever remain part of the Reich. They therefore launched a big project of expanding public transport. They constructed another trolleybus line from Śródka Market Square along ul. Warszawska to a loop at ul. Słupecka, ul. Kostrzyńska and ul. Łowicka. The first trolleybuses on that line were deployed on 6 September 1941. Another route was set up in 1944. It ran from ul. Szpitalna and ul. Dąbrowskiego to Sytkowo (ul. Lotnicza) and was used to go to and from Ławica Airport.
During the war, the Germans brought to Poznań trams and trolleybuses stolen from territories occupied by the Wehrmacht. In 1943, another six were imported from Kiev, while in 1944, 31 trams were shipped in from Warsaw, which at the time was embroiled in the uprising. One should note the restrictions that the occupiers imposed on the use of public transport. Poles could only board a tram or trolleybus after all German passengers had taken their seats, and they were not allowed to sit next to a German or speak Polish. In addition, Poles were banned from using public transport between 7:15am and 8:15am when German youth commuted to school. Many other restrictions were also in place, with new and increasingly harsher ones being imposed regularly.
In January 1945, as the front line drew nearer Poznań, the public transport service was suspended. Trolleybuses stopped running on 20 January. By 22 January, the Red Army advanced to the outskirts of Poznań. As fighting ensued in January and February 1945, both tram and trolleybus infrastructures sustained serious damage. Nor did the trolleybuses themselves escape the devastation. After the war, the electric wires were repaired and two trolleybuses overhauled allowing the city to restore service between the Botanical Garden and Ławica Airport on 1 March 1946. On 18 November, service from ul. Mostowa to os. Warszawskie was running again. Over time more lines were restored and new ones added.
The post-war period, in particular the 1940s and "50s, saw the most rapid growth of trolleybus transport in Poznań. Several decommissioned trolleybuses were brought from the town of Gorzów Wielkopolski (in exchange for trams from Poznań) and rebuilt. Since early 1948, three separate trolleybus lines had been in operation, labelled with letters from the end of the alphabet. These were the 3.2 km-long line Z from ul. Mostowa to Śródka to ul. Główna; the 3.8 km-long line W from ul. Mostowa to Śródka to Os. Warszawskie, and the 2.7 km long line U from Ogrody to Sytkowo. In the following years, new routes (S and T) were added while the existing ones were extended. In 1954, the letter designations were replaced with numbers from 101 to 106.
3 February 1952 marked the most tragic accident in the history of Poznań's public transit system. A trolleybus from Śródka bound for the city centre tumbled off the ice-covered Cybiński bridge into the frozen river below. Six passengers died, over a dozen others were injured. In the 1960s, trolleybuses gradually gave way to trams and buses, which were more reliable and reached ever farther into the distant suburbs. The problem with trolleybuses was non-functional infrastructure made up of four separate wires, which hampered maintenance. After Poznań acquired a roomy and what at the time was considered to be highly sophisticated bus model, the Jelcz 272 Mex, trolleybuses did not stand a chance. Further trolleybus lines were shut down between 1966 and 1970 while the vehicle fleet was scrapped. At the time, there was no indication that trolleybuses would ever make a comeback in Poznań.
The idea to bring them back was floated unexpectedly in 2012, when the city authorities proposed to use trolleybuses along the projected ul. Nowonaramowicka. The option was considered to be an affordable alternative to building a costly tram line to the Naramowice district. Further trolleybus lines in other parts of the city were also proposed at the time. The idea was criticised sharply by city councillors and public transport experts, who noted it would add another public transport system to the existing tram and bus networks and would require a separate infrastructure and maintenance system.
If you are a Poznań trivia buff, here is a little trolleybus-related tip:  visit ul. Wiejska (a side street off of ul. Główna) and you will find a remnant of the city's trolleybus system.  Look around until you see a pole that used to support overhead wires, once part of Poznań's oldest trolleybus line established in 1930. It is certainly worth a detour: make sure you snap a picture of this relic while it's still standing!  
Szymon Mazur
translation: Krzysztof Kotkowski
© Wydawnictwo Miejskie Posnania 2020