Things are bound to get better!
The twelfth edition of the LGBT film festival is here. From its modest beginnings in just one Warsaw cinema, the event has come a long way and is now touring all of Poland. Its sojourn in Poznań is planned to take place in the Pałacowe Cinema.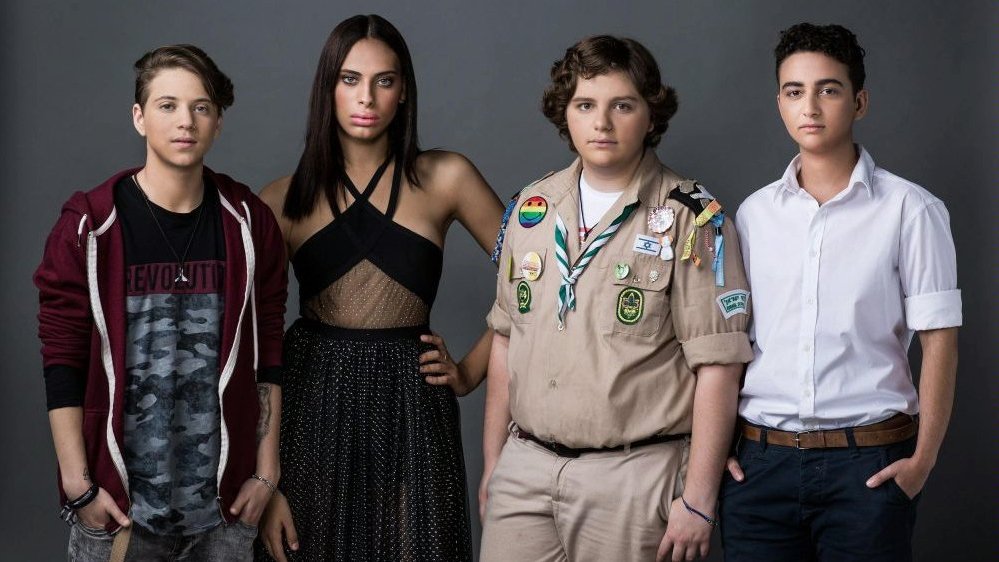 What is LGBT cinema anyway? Do we still need it today? The genre certainly served its purpose at a time when mainstream cinema either shied away from homosexuality and transgenderism altogether or sensationalised such themes, depicting LGBT as abnormal if not criminal. By now, however, non-heteronormative people are much better represented on screen, e.g. in Netflix productions. So, perhaps rather than getting stuck in a ghetto or a niche, the filmmakers should hit the mainstream in the spirit of true equality. 
This said, "rainbow" cinema still has a role to play in showing the point of view of LGBT+ people genuinely, without simplifications and trade-offs that cannot be avoided in motion pictures intended for audiences at large. Its job is to avoid hokeyness, exhilaration, patronising tolerance and comforting platitudes. 
One example of a rebellious filmmaker that scandalises the terrible bourgeoisie is Bruce LaBruce of Canada. His work includes gay pornography, avant-garde comedies and an occasional "normal" production. No matter what he makes, though, all his movies contain his trademark provocative charm. Poles had a chance to watch his Gerontophilia (2013) about a boy who desires a much older man. The LGBT Film Festival will feature his Saint-Narcisse. Set in Canada in 1972, it's a story of a young man who is in love with himself, as could be deduced from the title. This is but a small sample of LaBruce's eccentric ideas. 
LGBT cinema has for years been dominated by male filmmakers and gay themes. Although gender proportions are increasingly balanced out, the majority of the characters portrayed in the festival's programme continue to be male. Such is the case of the Swiss picture Beyto by Gitta Gsell about a Turkish swimmer from a conservative family who falls in love with his trainer. The festival's programme also includes two blocks of gay short films. 
It was two other films, though, that stood out the most for me personally. One of them, I am Samuel, dir. Pete Murimi, was made in Kenya, a country that criminalises homosexual relations. The other, Dear Fredi, an animated documentary by Rubi Gat, goes in a whole different direction as it tells the story of Fredy Hirsh, a German Jew and homosexual, who ended up in Auschwitz, where - against all odds - he helped establish a day-care centre for children and youth. 
Lesbian themes come across in Katie Found's My First Summer, a film that debuted in Australia. Its two teenage characters discover their sexuality and feelings for each other. A good number of films depict the lives of transgender people. Interestingly, all of them concern youngsters who become aware of their gender dysphoria early in life. The fictional Advent of Mary, dir. Vinícius Machado, portrays an 11-year-old girl growing up in a Brazilian province. She is forced to contend not only with her own gender identity, but also with pressure from family and religion. 
Aged seventeen, Valentina, the titular character of a Brazilian production directed by Cássio Pereira dos Santosa, is slightly older than Maria. Valentina is a transgender girl who moves from a city to the countryside with her mother. Although she tries to keep her private life a secret, the truth comes out during enrolment in her new school. One should note that the protagonist role was played by the debuting transgender actress Thiessa Woinbackk. The list ends with the Israeli documentary Transkids, whose director, Hilla Medalia, carefully filmed four transgender teenagers over the course of four years. 
A whole other film category represented at the festival are works that challenge the traditional classification of genders and sexual orientations, along with the roles and stereotypes assigned to them, and reveal the arbitrariness and fluidity of all identities. The Whisper of the Jaguar by the couple Simon (è) Jaikiriuma Paetau and Thais Guisasola is, as stated in press materials, "a queer-punk road movie" that contests "the heteronormative identity of cinema". Its protagonist, a punk girl Ana, travels the forests of the Amazon carrying the ashes of her queer artist sister. During her journey, "she does not cross the border, the border crosses her", note Paetau and Guisasola. 
The documentary The Queen of Ireland, dir. Conor Horgan, features Panti Bliss, the country's most famous drag queen and LGBT+ activist. In contrast, the protagonist of another documentary, the Australian-made Morgana by Josie Hess and Isabel Peppard, is an ordinary housewife frustrated with a boring marriage, who at some point takes to making feminist and erotic films in which she stars.
One should note that the acronym LGBT is already considered to be insufficient. Hence, further letters are being added: Q for queer (i.e. people who defy rigid gender-sexual divisions), A from asexual, I for intersex, etc. The point is to stretch the rainbow umbrella to embrace all those who do not fit into the moulds imposed by society. 
One would wish to see the festival's programme feature as many Polish films as possible. Unfortunately, Poland still suffers from an acute shortage of productions on this subject. The country is going to be represented by a short documentary by Michał Bolland entitled August 7th, which shows the nastiest face of the local homophobia, the kind embodied by politicians and the law enforcement authorities that report to them. The camera portrays people unlawfully arrested in the Warsaw district of Krakowskie Przedmieście during last year's protests against the imprisonment of the queer activist Margot. 
Clearly, the twelfth edition of LGBT Film Festival will take place in a political and social setting that is highly unfavourable to the queer community. However, the festival is a drop that hollows out the hard Polish stone. Things are bound to get better!
Bartosz Żurawiecki
translation: Krzysztof Kotkowski
12th LGBT Film Festival
27 September- 3 October
Pałacowe Cinema
for more, see: lgbtfestival.pl
© Wydawnictwo Miejskie Posnania 2021