The Wizards - an exhibition of photographs by Jan Kurek
Jan Kurek has the eye. Not everyone has it, not everyone can look and see things. He can. His eye works in perfect unison with a video camera viewfinder or a still photo camera lens. It captures the frame that the average observer would either miss or dismiss.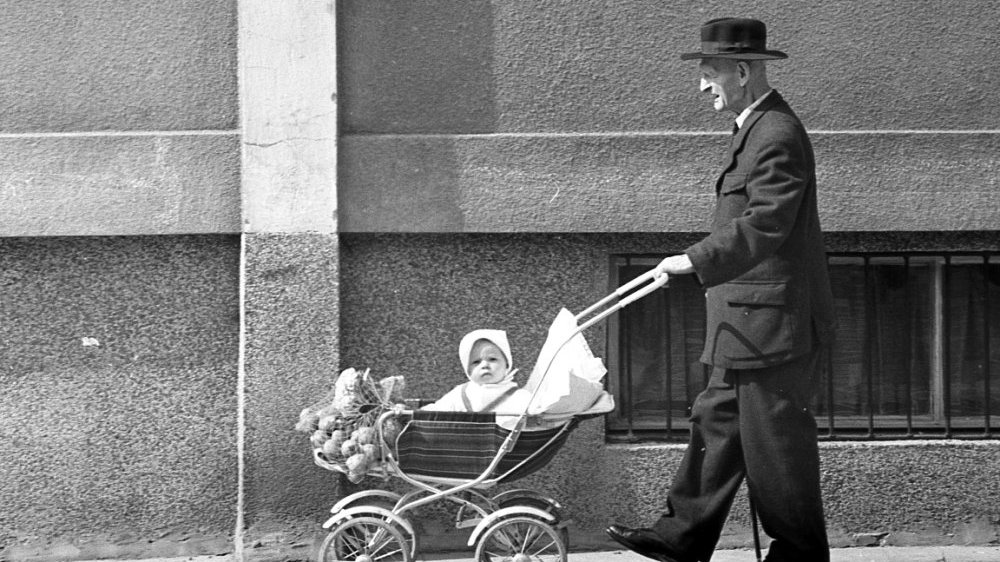 A tv operator and tv theatre director by profession, he has been a photographer by passion, driven by curiosity about the world. Born in Szczecinek in 1934, Kurek moved to Poznań three decades later, a fresh graduate of the Cinematography Department of the Łódź Film School. In his own account, his first job, which was with Poznań television, was one of a third-class operator. He quickly rose through the ranks to become lead operator, lighting technician and broadcast engineer. He took his first photos at 16 using a 6x9 bellows camera inherited from his father. He then bought a Zorka camera from the Soviet troops stationed in Borne Sulinowo. While his archive contains thousands of photos, his genius can best be seen in a few hundred of them taken in the 1960s in the Poznań district of Łazarz, where he moved into a newly-constructed apartment at ul. Potocka and ul. Lodowa in 1965.
Thus, inadvertently as it were, he portrayed a decade in the life of Łazarz in his own way that was both ordinary and festive and that focused on both the obvious and the obscure, the run-of-the-mill and the unexpected, the bright and the drab, the grey, as in buildings and pavements, and the green, as in trees and grass. An idyllically rural and hesitantly urban landscape. However, none of this was of relevance to Kurek. As a photographer, he cared little for Łazarz itself, for its streets and buildings or for any other things that so fascinate today's history buffs. The district bustled with life and that life was what caught Kurek's attention. He took interest in the people and their fates. Early on, his excuse for shooting photos was his walks with his son Marcin, who was born in 1963. It is his son and his little bike that are at the centre of many of the photos taken in the mid-1960s.
What mattered to Kurek were ordinary people, adults and children alike. In his images, they are shown walking, sitting, playing, sunbathing, working, talking, waiting for something, or rushing past. They are captured attentively, with clarity and synthesis that is easier to achieve in black and white, each in a unique set of circumstances that only occurs this one time, in this very moment. No one will ever repeat these stories. The artist's works make up an amazing and vibrant collection that portrays captivating stories and memories seized forever by Kurek's eye, in hundreds of frames.
Danuta Książkiewicz-Bartkowiak
translation: Krzysztof Kotkowski
The exhibition is closed from November 7 until further notice
photographs by Jan Kurek Czarodzieje (The Wizards), part of Ireneusz Zjeżdżałka Wielkopolska Photography Festival, curated by Marta Buczkowska and Danuta Książkiewicz-Bartkowiak, open until 12.11., Castle Cultural Centre, Grand Lobby
free admission
© Wydawnictwo Miejskie Posnania 2020