The Automotive Museum coming back with a bang
A collection of over a hundred remarkable cars, bicycles, mopeds and motorcycles will be on view in Hall 2 at the Poznań International Fair as Poznań's celebrated Automotive Museum is making its comeback. The Museum is being moved from its previous location under the Kaponiera rounabout where it remained until its renovation a few years ago.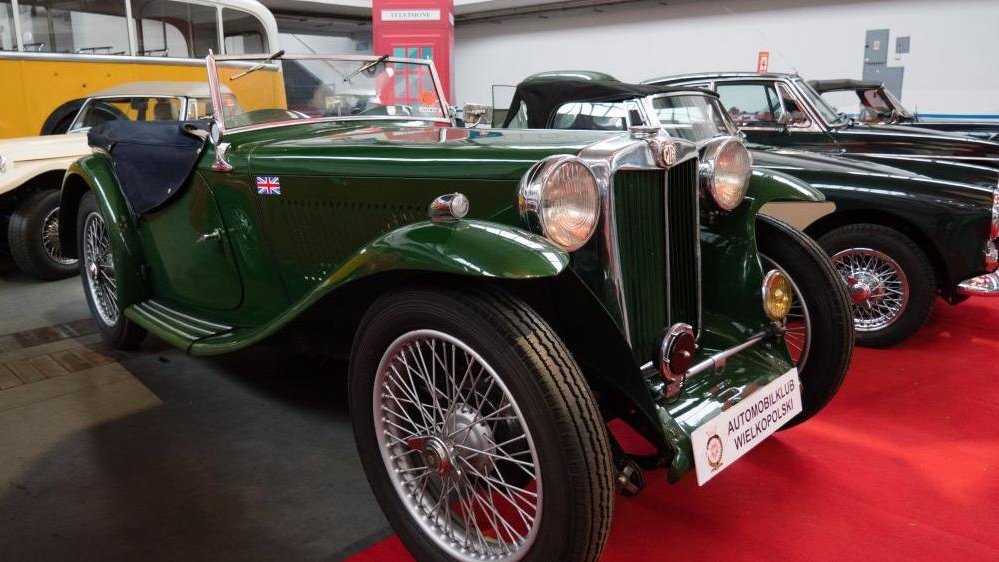 The renovation forced the Automotive Museum to leave the underground part of its premises and seek a new site to house its valuable collection. While that site remains to be found, the majority of vintage vehicles have been displayed in their owners' garages and, naturally, on International Fair grounds during such major automotive events as the Poznań Motor Show and the Retro Motor Show.
Regrettably though, last year's Retro Motor Show had to be cancelled due to Covid-19. The upcoming Poznań Motor Show is expected to take place in April 2021. Time will tell whether this event, which is Poland's largest automotive trade fair, will indeed go ahead as scheduled.
All this notwithstanding, the vintage vehicles have returned to Poznań International Fair thanks to long-standing ties between the Fair and Automobilklub Wielkopolski (the Auto Club of the Greater Poland region). The historic automobile and bicycle exhibition was prepared with a flair to take up the entire Pavilion 2. It is divided into thematic zones that range from the early days of mass produced automobiles, complete with Henry Ford's assembly line, to American classics, including a 113-year-old REO Gentelman's Roadster, to other vehicles from around the world.
The "Italian zone" will feature a meticulously maintained 1966 Fiat 118H/1500 Convertible, a 1929 Fiat 514 and a host of iconic Vespa mopeds. The French section will have a 1925 Renault NN Torpedo and the event's oldest exhibit: the 1888 Clement Safety bicycle (a penny-farthing a.k.a. a high-wheeler, to be exact).
The British automotive industry is represented by a 1937 MG TA fitted with a four-cylinder inline engine. The German section is divided into the East and the West. The West German automotive industry is represented by a 1971 Mercedes W108/280SE and a 1973 BMW E9. A collection of Trabants demonstrates the alleged superiority of East German technology over that of the "decadent west". Pavilion 2 houses such iconic automobiles from communist Poland as Warszawa, Fiat 125p, Fiat 126p, Tarpan and Żuk. The display area has been carefully designed with vehicles "parked" near a carpet hanger and surrounded by everyday items from the 1960s, "70s and "80s. In addition to classic cars, the exhibition also features World War II military armored vehicles and motorcycles.
"The Automotive Museum at the Poznań International Fair shows automobiles owned by our club members, who showed strong commitment in preparing the exhibition in Hall 2 on PIF grounds. We appreciate the opportunity to share our passion", says Bartosz Bieliński, President of Automobilklub Wielkopolski.
Although the exhibition is fully prepared, it remains unclear for how long it is going to open. The organisers hope to see Covid-19 restrictions eased soon to allow their displays to again be available to the public. Given how big, high and airy Pavilion 2 is, the risk of coronavirus transmission is fairly low.
The current plan is to keep the Automotive Museum at the Trade Fair open until April. "It is going to be a fun family-oriented leisure activity. We invite automotive and history buffs as well as families with children to see this unique event," says Tomasz Kobierski, Grupa MTP's Board Chairman.
The exhibition is closed from March 20 until further notice
Muzeum Motoryzacji (Automotive Museum)
Międzynarodowe Targi Poznańskie (Poznań International Fair), hall 2, entrance: Głogowska street
open until 15 April (Friday 10 am - 6 pm, Saturday - Sunday 10 am - 5 pm)
ticekts: 20 pln (regular ticket), 10 pln (reduced ticket) available at ToBilet
Szymon Mazur
translation: Krzysztof Kotkowski
© Wydawnictwo Miejskie Posnania 2021