Relationships in dance
As December approaches, so does the next edition of the 1 Page, 1 Look, 180 Seconds festival of the Polish Dance Theatre. For several days, Poznań will throb to the rhythm of story-telling dance that - as every year - will tackle vital, topical, and often difficult issues.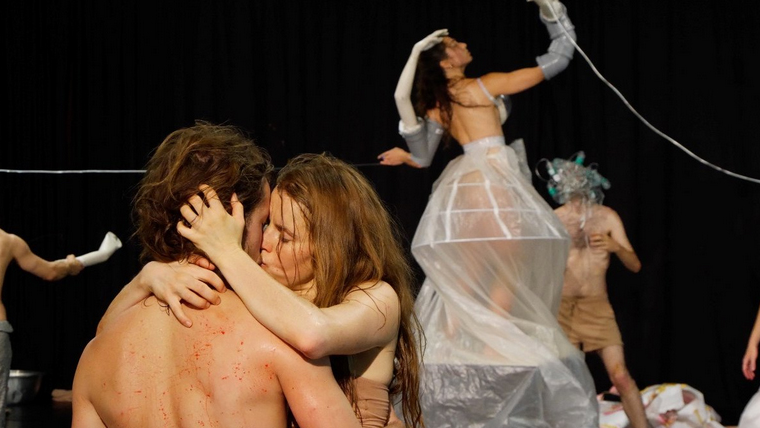 Since its very beginning, the event has invariably featured announcements of the results of the competition that bears the same name. This year's competition was launched last April. Its rules are summarised in its name: the 1 page refers to a literary work in the Polish language, the 1 look to an approach to visual arts, and the 180 seconds to the exploration of movement. This year's edition will include guest appearances showcasing various dance and choreographic techniques and styles and a premiere of a choreography film project of the Polish Dance Theatre directed by Iwona Pasińska.
The programme? On 15 December, the Śląsk Song and Dance Ensemble will appear in Folk Solution, a folk-culture-inspired project that combines electronic music with contemporary dance. On the following day, Pamela Leończyk and Magdalena Fejdasz will bring us Trzepot 2.0: a sequel to the creative exploration of ​​the relationship between the human body and the forest portrayed as the long-lost home that we now miss but can no longer survive in. As stated in the show's notice, the artists will take the audience on a journey through their bodies' memory of natural settings.
On 17 December, in co-production with the Rozbark Theatre, the bodytalk collective will perform Rolf Baumgart and Yoshiko Waki's Bilderzerstörer (Image Destroyer) to live music. The Image Destroyer will address the body's response to the mass media, and the gain and loss of a sense of reality brought about in part by digitisation. This will be the only show in the festival's programme intended exclusively for adult audiences.
The penultimate event will be the above-mentioned finals of the 1 Page, 1 Look, 180 Seconds competition. This event includes a panel discussion involving competition participants and jurors. It will feature a premiere of The Beast directed by Iwona Pasińska, the sixth choreographic film project of the Polish Dance Theatre that explores relationships among animals and those between humans and animals. Questions will also be posed on which relationships are based on innocence, carefreeness, and curiosity, and which involve savagery, eradication, and the burden of domination. Which species is the fiercest predator? The festival will close with a Kielce Dance Theatre performance of its Mickiewicz Ballades in Dance.
The week promises to brim with dance sensations of the highest calibre. Make sure to make time for the Look, which although limited to one, is certain to conceal many others. See you in December.
Marta Szostak
translation: Krzysztof Kotkowski

4th International 1 page - 1 look - 180 seconds Festival, Poznań Dance Theatre, 15-20 December, tickets at PLN 40-70, free admission to the finale gala and film premiere
© Wydawnictwo Miejskie Posnania 2022