Jazz on Strzeszyńskie Lake waterfront
Leszek Możdżer has held his festival on Lake Strzeszyńskie waterfront near Poznań for a decade now. This year's eleventh edition of the event will again provide a marvellous opportunity to experience in person the power, diversity and exceptional energy of jazz.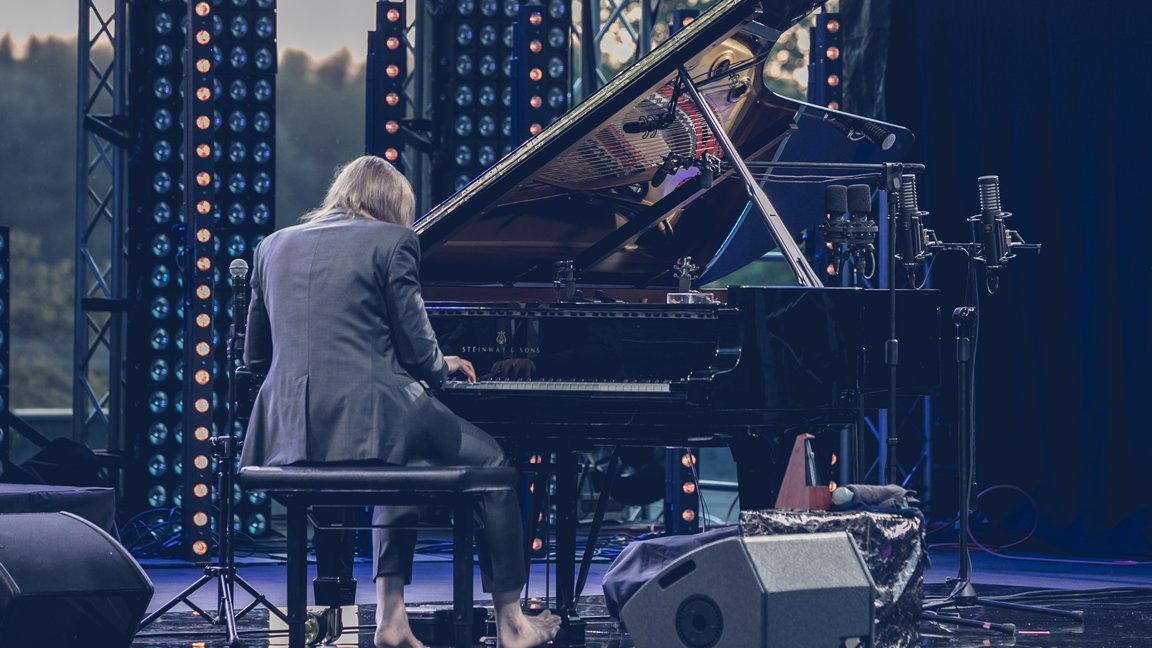 Enter Enea Festival will return to the Strzeszyn lakefront on 13-15 August. Previously, the festival has featured not only Leszek Możdżer himself but also a plethora of other celebrity artists, bands and projects, including The Saintbox, Atom String Quartet, Kwadrofonik, Dagadana, Mitch & Mitch, Marcin Wasilewski Trio, Nerve, Mateusz Pospieszalski with his band and Możdżer Danielsson Fresco. Last year, the pandemic foiled some of the organisers' plans, forcing them to move the June event to August and shorten it by a day. Although not spared such trouble, Enter Enea Festival was one of a handful of music festivals that did go ahead in 2020.
At the festival's press conference on 31 May-1 June, the organisers presented a Prelude made up of the opening of the exhibition To żyje (It's Alive) by Marcin Zawicki, a concert by Leszek Możdżer and the premiere of Aga Derlak's project before a live audience. The European Art Forum Foundation, which organised the display, stressed this was only part one of this year's Enter Enea Festival and that part two, to be held in August, would go on for the usual three days.
As always, Leszek Możdżer, who doubles as the festival's Artistic Director, has centred the event's programme around outstanding performers who, in addition to their artistic experience and prior achievements, have each already developed their unique expressive and distinctive personalities and musical language. The eleventh edition of the event will feature the legendary Marylin Mazur as well as Michał Urbaniak, who is slated to unveil his UrbSymphony project involving Marcin Pospieszalski, Frank Parker, Patches Stewart, Leszek Możdżer and Orchestra of Poznań's Stanisław Moniuszko Wielki Theatre conducted by Katarzyna Tomala-Jedynak. The festival has also embraced promising young-generation talent, among them members of Marta Wajdzik Music and Marcin Pater Trio. Also in the line-up were Omri Mor, Andrei Kondakov and guitar virtuoso Adam Palma, who is scheduled to appear with Tomas Celis Sanchez. The superb violinist Mariusz Patyra will share the stage with Mikhail Radunski on cello and Kiryl Keduk on piano, both from Belorussia. Also to be seen are Andrei Kondakov, and the folk Warsaw Village Band.
Owing to their freshness, honesty, sensitivity, unpretentiousness, independence, self-awareness and diverse artistic personalities, the artists are certain to make Enter Enea Festival very special indeed. Press releases about the event repeat Możdżer's description of the place as one where "you tippy-toe on the grass not to disturb the audience engrossed in beautiful music". Evidently the landscape offers a stunning backdrop for a unique auditory experience. The event has included a host of premieres and remarkable line-ups by artists from around the world. This time, Strzeszyn is most definitely the place to be in the second weekend of August.
Marcin Małecki
translation: Krzysztof Kotkowski
11th Enter Enea Festival
13-15 August, 7:30 pm
Lake Strzeszyńskie
admission: PLN 110-350
to learn more, see enterfestival.pl
© Wydawnictwo Miejskie Posnania 2021