In the lens of a camera
Nearly 500 documentary films from 64 countries have been submitted to the 25th edition. The jury ended up selecting 31 documentaries from 14 countries in two categories: short and feature film, among them an astounding 11 productions from Poland. Each of their makers trained their camera on the nightmares and dreams that preoccupy people in the second decade of the 21st century. The Off Cinema International Documentary Film Festival is set to kick off on 19 October in the Zamek (Castle) Cultural Centre.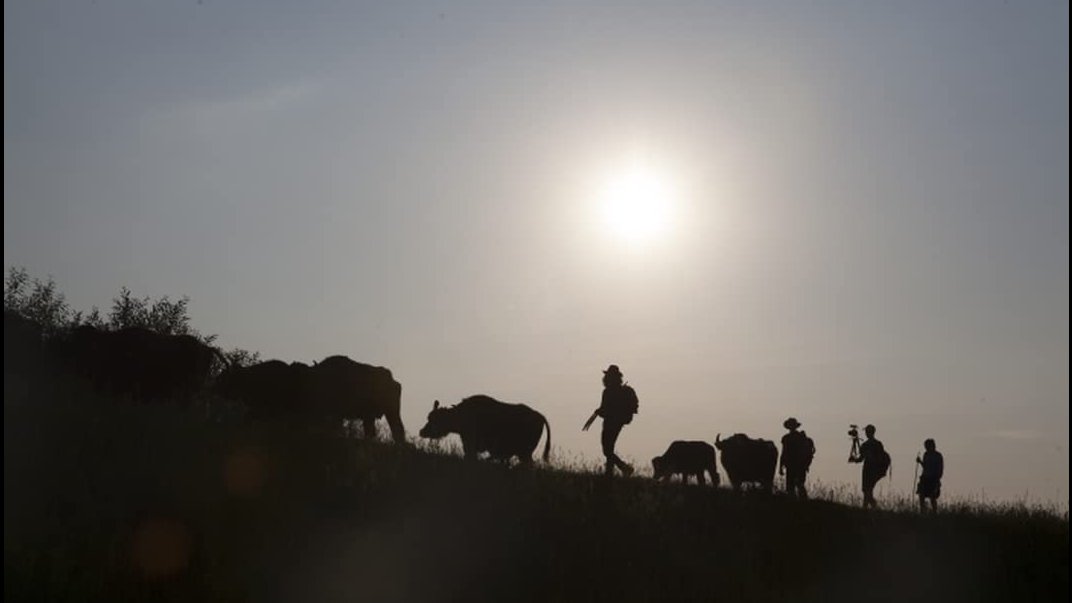 Some of the documentaries have already made themselves known at film festivals, others are still to make their debuts. My personal recommendation is As Far As Possible (directed by Ganna Iaroshevych of Ukraine), a picture for anyone with the desire to get away from people. Then there's the remarkable story of Michel, a young German man with a dream to lead a simple life away from civilisation. After a decade of solitude, he falls in love with Vera and returns to Germany on the wings of love, seeking to start a family.
And I Was There (written and directed by Eran Paz, Israel) explores a certain facet of the Israeli-Palestinian conflict. The story begins at a random trance party held in a living room by a bunch of young people. But what if the young people were Israeli soldiers and the living room was owned by a Palestinian family locked in one of the rooms of the house? A whole different side of Israel is shown in High Maintenance: The Life and Work of Dani Karavan (directed by Barak Heymann, Israel). Dani Karavan, who is approaching her 90s, takes the viewer on a journey into a world of her thoughts with an emotional commentary on present-day politics. Along the way, she reveals the complex and fascinating nature of one of Israel's greatest artists of our time. Wim Wenders (Wings of Desire, Lisbon Story) also makes an appearance.
A journey into the soul of a person who survives the experience of being on death row is offered by director Marco Speroni in A Declaration of Love. Curtis McCarty is sentenced to death in 1985 for a crime he did not commit. He spends 22 years in prison, 19 of them on death row. Buried alive below ground in a windowless concrete room in Oklahoma State Penitentiary, he is exonerated in 2007 and set free. After his release, he is left with no help or support only to see his life fall apart. He becomes homeless and drug addicted with nowhere to go and no one to turn to. A different but equally horrifying view of drug addiction is shown in Good Intentions (directed by Andres Villasenor, Spain), whose protagonist Alan, a French man living in Barcelona, ​​struggles to overcome an addiction to methamphetamine. Yet another circle of hell is depicted in Walk with Angels by Tomasz Wysokiński. The role of the poet Virgil is taken by Jerry (Jeremaiah Marobyan), a hero of the fight against South African apartheid on a mission to find a kidnapped child in the Soweto township. The search takes him to the darkest alleys of Johannesburg and the darkest recesses of his soul. The film has received the Golden Hobby-Horse award of the Kraków Film Festival and a special award for best documentary producer.
Paweł Łoziński, in his turn, tries to convince his audiences that the world is not all that bad. He does that in his Balcony Film, in which he watches people from the vantage point of his balcony in a townhouse in the Warsaw district of Saska Kępa. The filmmaker accosts passers-by asking them questions about how they cope with life. Over the span of 2.5 years, the director has filmed exchanges with about two thousand people, eighty of whom were included in the production.
Moving on to short films: the Golden Bear winner at the Berlin 2021 festival, also selected as the best documentary at festivals in Norway, Nijmegen, Zagreb and Tel Aviv, which makes it an obvious choice for a film recommendation, is My Uncle Tudor (dir. Olga Lucovnicova, Belgium/Moldova). With intimate close-ups, the camera captures seemingly idyllic scenes that conceal family secrets, whose disclosure comes with consequences for the director that continue to this day.
Being an award winner at the Tampere, Zagreb and Vyborg festivals in the 25th "Window to Europe" Russian Film Festival attests to the quality of Shadows of Your Childhood (dir. Mikhail Gorobchuk, Russia). Its oneiric frames weave a dreamy fabric, setting a scene reminiscent of the Chinese shadow theatre. For little Stesha, darkness becomes a path to another world that is both terrifying and fascinating.
Director Arturo Dueñas takes us to the FiSahara International Film Festival held in the Sahrawi refugee camps in the southwestern corner of Algeria near the Western Saharan border, the world's only film festival taking place in a refugee camp. His film Dajla: Cinema and Oblivion shows life in one of the camps that has been forgotten for 45 years.
The Beyond (dir. Daniel Maurer, Switzerland) tells the story of the lingering pandemic posing a daily threat to human life. The second wave of covid significantly increased the mortality of hospitalised patients, which impacts the work of Mathieu employed in a hospital morgue. Walls (directed by Andrei Kutsil) takes a behind-the-scenes look at a whole different set of human dramas and specifically those unfolding in Belarus. On the night of 13-14 August, the authorities begin to release en masse protesters against the rigging of the presidential election from the Akrestsina Detention Centre in Minsk and the Zhodzina prison. For many days, hundreds of relatives wait, some of them to this day, for their loved ones to step out of the prison walls. After they leave their prisons, the detainees talk about violence and abuse of which they were victim. The poignant pain of motherly hearts is shown in Since you arrived, my heart stopped belonging to me (dir. Erin Semine Kökdil, USA). Central American mothers journey by bus through Mexico in search of their children who have set out to migrate to the United States but went missing along the way...
An Off-Cinema Festival Awards Gala will be held on 23 October at 7pm in the Grand Hall of the Zamek (Castle) Cultural Centre. This year's Platinum Castle goes to Jacek Bławut, one of Poland's most imaginative documentary filmmakers known for such productions as The Warrior, Rat in a Crown and Special Olympics.
Przemysław Toboła
translation: Krzysztof Kotkowski
25th Off Cinema International Documentary Film Festival
19-24 October
Zamek (Castle) Cultural Centre
for more, see offcinema.ckzamek.pl
© Wydawnictwo Miejskie Posnania 2021