In the Archdiocesan Museum
A sense of surprise, anxiety and delight will grip you on entry. White, nude life-size figures bending down in despair line both sides of the arcaded courtyard of the Lubrański Academy. This is how Grzegorz Niemyjski portrays Lamentations, a Jewish prayer at the Wailing Wall.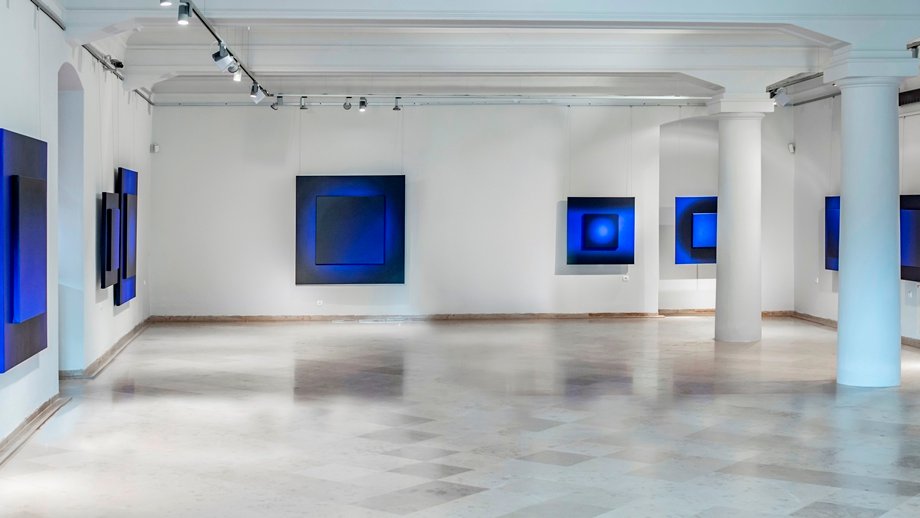 It does not get any less surprising as you proceed: the artist's austere sculptures resonate perfectly with respectable monuments from centuries past. This can certainly be said for the Pietà and the reliquary that is placed squarely in the centre among intricate masterpieces by ancient goldsmiths. As you ascend towards the attic, which is entirely dedicated to Niemyjski's works, you will pass the artist's large painting compositions. His versatility is impressive: the works are made of granite, wood, ceramics, and, as in the case of the white figures in the courtyard, polystyrene.
A whole other exhibition, held in the Lubrański Academy, and one perhaps harder to embrace, is the making of the outstanding abstractionist Tadeusz Gustaw Wiktor. I have little doubt that any visitors still hesitant about contemporary art will see their resistance to new means of artistic expression melt away on viewing both exhibitions. They will see contemporary religious art, which does not enjoy the best of press in our country, in a whole new light. This precisely is the mission of the recently established Contemporary Art Gallery at the Archdiocese Museum, pursued with great success, I might add. The exhibitions of the Wrocław- and Kraków-based artists will be on view until the end of October.
Marta Smolińska
translation: Krzysztof Kotkowski
◥ Tadeusz G. Wiktor. Lux umbra Dei
open until 30 October
     Tadeusz Gustaw Wiktor is one of the most celebrated and outstanding Polish abstractionists. He is known for his special bond with Christianity, including the traditional paintings of the Eastern Church. His exhibition, which, inter alia, features a large painting collection dubbed "Light for Bożena", is his exhibition debut.
◥ Grzegorz Niemyjski. Szczelina
open until 30 October
     Grzegorz Niemyjski, an artist known for his numerous sculptural projects, delivers works made of granite, wood, polystyrene, and ceramic. They are figurative and abstract, monumental and intimate, placed in urban spaces and designed to grace indoor exhibitions. In a display named Szczelina, the artist presents twenty or so pieces, including a polystyrene Lamentations collection, ceramic and wooden sculptures, and drawings on cardboard.
© Wydawnictwo Miejskie Posnania 2021