I am happy for having chosen my profession
She decided to become a conductor at the age of eight. "I love music and adore the amazing musicians I work with. I would make the same decision again", says Agnieszka Duczmal, a conductor and founder of the Amadeus Polish Radio Chamber Orchestra, which is celebrating its fiftieth anniversary this year.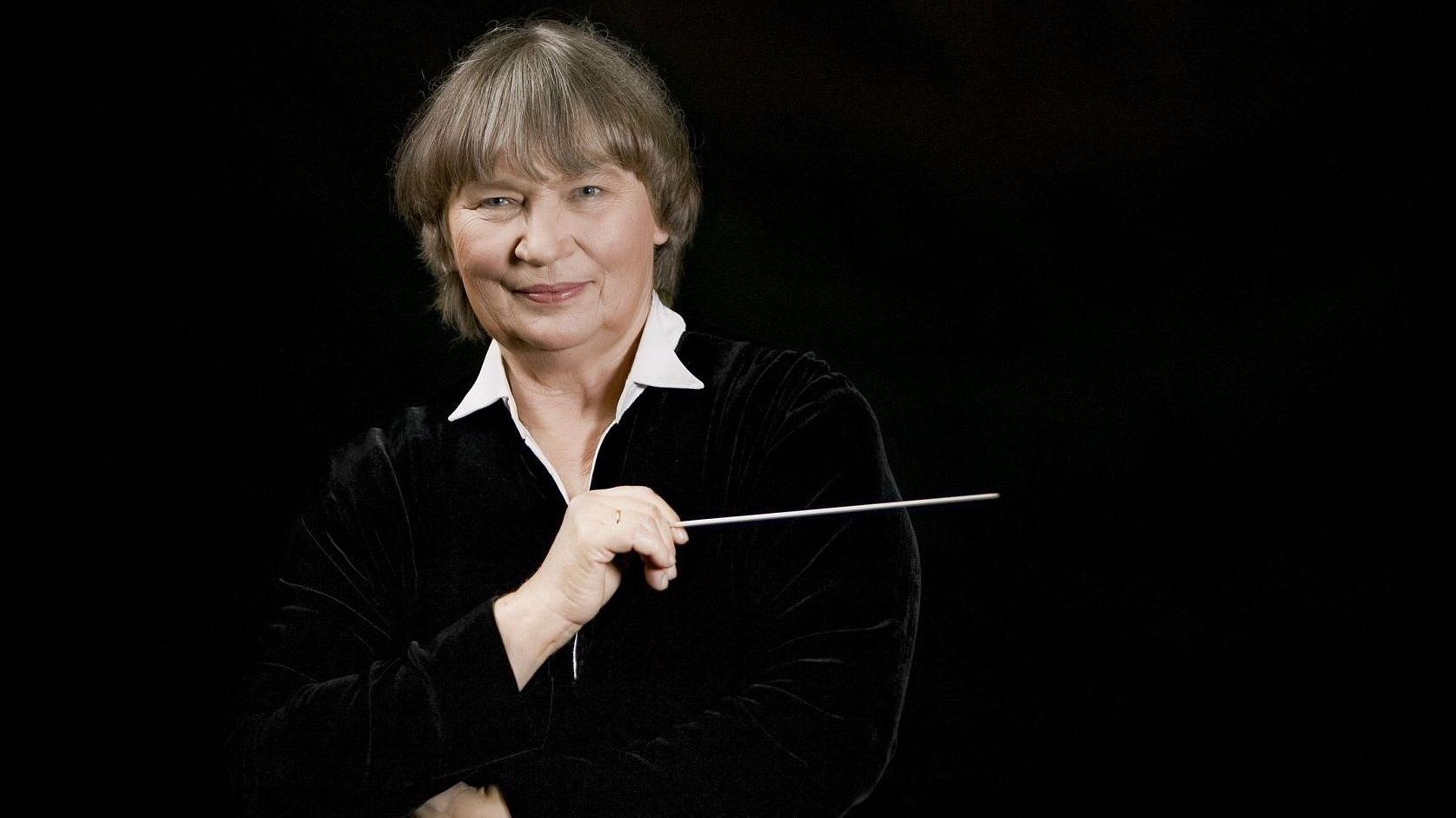 Agnieszka Duczmal and her band have toured all around the world. She was the first female conductor to appear at La Scala in Milan and the Royal Theatres of Madrid and Brussels. The orchestra has shared the stage with many prominent artists, including Marta Argerich, Henryk Szeryng and Alem Di Meola. Amadeus has released over fifty albums and recorded ten thousand minutes of music for Polish Radio. Its tracks are held in the archives of French and Japanese television. Agnieszka Duczmal has received many awards and distinctions, including from the Herbert von Karajan Foundation. She is an honorary citizen of Poznań and Krotoszyn, where she was born, and a laureate of the Golden Microphone and the Golden Fryderyk. In 1983, she was honoured with the title of La Donna del Mondo (Woman of the World). She has raised three children.
Do artists ever retire?
Officially, they do. Unofficially, they play for as long as their will and strength will allow it.
As I look at the zest with which you conduct your orchestra, it is clear to me that you have no shortage of strength. How do you stay in shape?
I actually don't do any of the right things I should be doing. I haven't joined a gym, I don't run although I do walk a lot. For instance, I go shopping and when I do, I carry heavy bags, so I get my muscle workout this way. I also do occasional gardening to get fresh air. Other than that, I get my exercise from conducting. In fact, I am always physically active, so no complaints on that front. Especially that I like what I do.
We like it too and thank you for the "Pół wieku w stuleciu" ("Half a Century in the Century") Amadeus Orchestra Jubilee Festival, featuring a host of amazing artists.
I wanted to conclude the fifty years with a nice touch. And so I invited Mischa Maisky, Daniel Hope, Roman Perucki, and Makoto Ozone to Poznań. In Warsaw, we played with Maxim Vengerov. The concert programmes have shown the versatility and richness of the Orchestra's musical sensitivity.
When you first started your Orchestra fifty years ago, did you know this would be for ever?
I had no such thoughts. I studied conducting and, just like any conductor, an orchestra is their key instrument. During my studies, we only got to conduct two pianos and, on rare occasions, thanks to our Professor Witold Krzemieniecki, we got to work with a philharmonic orchestra for half an hour. When you face a full-size orchestra after only conducting two pianos, you experience a shock. You suddenly discover a variety of colours, instruments, each of a different hue, in a different scale, with a different dynamic. You are bedazzled by a cascade of sounds, which you need to control as a conductor. The only way to learn that is by working with an orchestra.
So is that why you brought your friends together?
After I invited them to a joint session I realised I had struck gold. Not only did I get an ensemble to practice with but I also got to adjust my instrument, the orchestra, and choose its repertoire. We learned our professions together in the team I had created.
Are there still musicians in your band today that were with you from the very start?
No. The orchestra is now composed of musicians who have made up one wonderful living organism for many years, including the concertmasters Jarosław Żołnierczyk, Bogdan Kapała, Mirosław Bocek, Lech Bałaban and Eugeniusz Zboralski. Recently, our longest playing musician, the double bassist Józef Jaroszewski, who had been with Amadeus for forty nine years, retired. He now runs our library.
In your personal life, he is your husband. Weren't you sorry to see him leave?
I certainly was. It is always difficult to part with a musician that one knows inside out and who understands you perfectly. We then look for successors, hold auditions - and everyone plays differently. You have to get used to the new. Józef is an outstanding musician. I remember speaking to Henryk Szeryng after a rehearsal - the maestro said to him: "Your spiccato is incredible. I have never heard anything like it".
Does that really matter?
Tremendously. When a new violinist comes around, God forbid a concertmaster - you can really hear the difference.
I understand that a concertmaster sets the tone...
Everyone and everything counts. Even the place where a violinist sits makes a difference for the cohesion of the sound. I don't seat violinists according to their skill levels, as these are comparable. What I look to achieve is a symbiosis of instruments and a harmonious sound.
How many musicians have played in your band over these fifty years?
I haven't counted. Early on, many colleagues would leave as soon as they graduated. People had to make a living and find a place to live - many left Poznań. All that changed when we came under the care of Zbigniew Napierała, at the time the Director of Poznań Television, and Andrzej Wituski, the Deputy Mayor of Poznań, who allocated some flats to us. It was then that I started to build a professional team.
You chose to become a conductor at the age of eight. You have worked hard pretty much ever since. It all began at your school, the university, then the orchestra you ran, shouldering responsibility for its members, the concerts, the constant travels and a wonderful family on top of all this. You are still married to the same man, with three children. Not every artist has managed to do that. What price have you paid for your success? Are you permanently exhausted?
I do get tired. However, there is always some give and take, no matter what profession you pursue. Józek and I were lucky to have had the rest of our family help us. When we left on a tour, the kids would stay with my mum, aunt, or brother and sister-in-law. They all worked together, taking turns. The kids were never alone.
And either your mother or aunt would take them to musical schools all the way across Poznań?
No one took them. From their earliest years, they would get on a bus and commute by themselves. They made their own breakfast - they were very self-sufficient. Our children learned early to take care of themselves. And when they heard Eine kleine nacht music, they would say: "Oh! This is our parents' music". The children were with us through all the goings-on and learned from us to love music.
Have they ever blamed you for working too much or not watching a cartoon together?
We did children's stories. We had our talks, went on holidays together, read books in the evening, as any other family. That is why we understand each other so well today. We see each other often. Even though Karolina, for instance, lives in Warsaw.
She is an accomplished cellist, a soloist in the National Philharmonic Orchestra. As well as a mother of three.
She too has to make it all work. Kuba - an IT specialist, and Ania live in Poznań, actually not far from us and so we see each other almost daily. We help to take care of our grandson. Anna, who is also a conductor, also works a lot. This autumn, she will stage the premiere of a contemporary comical opera by Maciej Małecki with words by Wojciech Młynarski at the Nowa Opera in Bydgoszcz. For many years, she has been working with the Amadeus Orchestra. The team have accepted her. We now share conducting and take turns doing rehearsals. I don't have to work so hard any more.
What are Agnieszka Duczmal and her orchestra's plans for the next half a century?
(laughter) I can only speak of the next two or three years. We are going to perform in France, Germany, Japan and beyond, although the discussions are not over, so we'll have to wait and see. First and foremost, though, we'll perform at concerts and in recording studios in Poland.
You are such a happy woman. Fulfilled and appreciated.
Hold on a second... I may be recognised and liked by some but I'm also disliked by others. You get that in every profession. As for being happy... yes, I am happy for having chosen my profession. I love music and adore the amazing musicians I work with. I would make the same decision again. With all the highs and lows, happy and sad moments - but life cannot always be a bed of roses. It is a constant struggle and as with every struggle, the key is the goals you set. Mine is to deliver a spiritual feast to all those who listen to our music. Let them sit back in their chairs and allow the emotions found in the music rock them.
Interview by Dorota Juszczyk
Translation: Krzysztof Kotkowski
© Wydawnictwo Miejskie Posnania 2018