Family diseases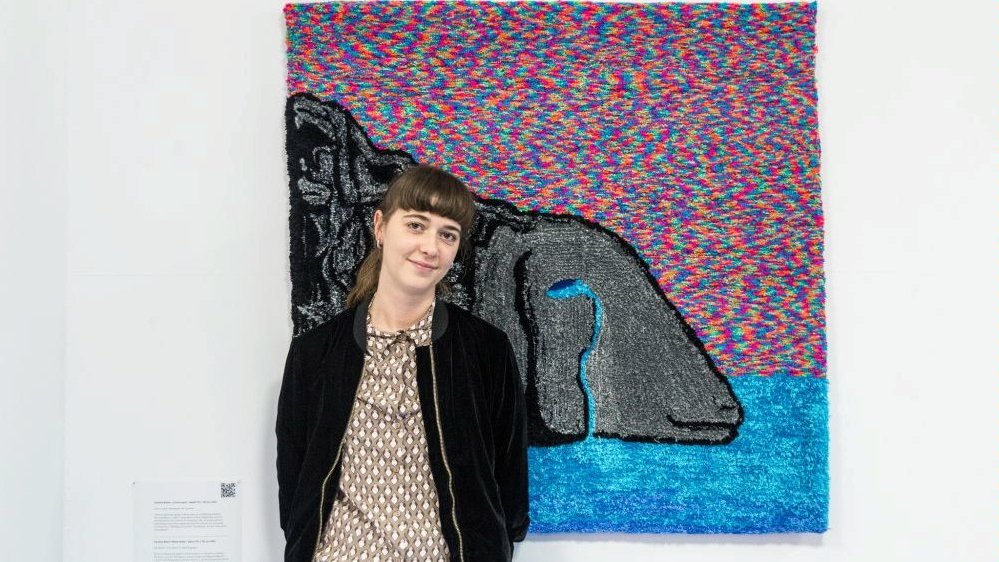 The paintings and installations on view in the Arsenal Gallery spotlight the experience of the artist's brother. At 18, Filip was admitted into his first rehab in Pławniowice, where he underwent treatment for 10 months. He recovered only to relapse and be diagnosed with schizophrenia and psychoactive substance addiction. Filip's illness wreaked havoc with the whole Balcer family. As described by the curator, the artist's parents became "adept at co-dependency," while Karolina Balcer herself experienced depressive episodes.
In her tackling of the broadly-based subject of mental disorders, the artist makes literal (and figurative) references to "sweeping things under the rug". In her description of one of the exhibits, Chill Pills, on the project's website, she points to the stigmatisation of people who take antidepressants, such stigmatisation being still prevalent in Poland. She bemoans the fact that although over a million Poles rely on pharmacotherapy, such treatment continues to be viewed as degrading and a sign of weakness.
In stark contrast with people's knee-jerk association of such issues with exclusion, guilt, misunderstanding (of oneself and others), helplessness and anger, Happy Family exhibition ushers one into a space of softness filled with multiple colours, warm light, and soothing silence. Although its knitted and tufted exhibits may intrigue the viewer with their hues, they make up a coherent, colourful landscape. Repeatedly swept under the rug, snippets of reality take on an aesthetically pleasing but ambivalent form.
The entryway leading into the exhibition hall guides the visitor to step over a doormat that says "HELP". This word as well as the very act of entering the space may be seen as either a cry for help or a warning. Many other subtle and obscure signals aptly demonstrate that relationships with addicts and other ill people tend to involve unconsciously blurring boundaries between individuals. At the entrance, lamps with long, knitted shades hang from the ceiling. Similarly to other displayed objects, the shades are soft. They coax one to touch them and maybe even take shelter in them. Moving between their fringes in the warm light of the lamps makes one feel safe. And yet, staying under the shade may mean isolation and insensitivity, which inevitably brings to mind the novel The Bell Jar by Sylvia Plath.
Similar shelter is offered by a pastel-coloured collection of crocheted and knit sweaters. In everyday context, the inscription "I'm fine" across each of them could be taken to signify reassurance and a pre-emptive response to the questions "How are you?", "Are you sad?", or "Why aren't you smiling?" Balcer's projects engage not only one's sight and hearing, but above all the sense of touch. The empathetic approach to being powerless and co-dependent in the artist's paintings helps the viewer find comfort and understanding. Although not unsurprisingly set to fit the context at hand, these works remain highly pliable, changing to align with one's individual experience.
One of the goals of the artist's Happy Family project was to discover a way to distance herself from memories and experiences. Balcer puts great store by the collective, community side of illness and co-dependency. She compares them to a towel that never dries up. She notes that "co-dependent people adapt their behaviours to a damaging environment to keep the families together. In the process, many physical, emotional, and intellectual changes take place that produce an addiction-like condition. (...) At least three million people in Poland are estimated to suffer from this affliction. 38,000 of them are in treatment". If we are not prepared to discuss mental disorders and addictions, how can we be ready to address co-dependency?
The Balcer project operates on many levels. Not only does it highlight socio-cultural problems associated with mental disorder and addiction. It also seeks to define the family as such, re-examining the persistent and prevalent patriarchal view subjugated to national values. The exhibition explores the old familiar model of the typical family that remains at the core of the conservative worldview that is predominant in Poland. For many Poles, such experience is universal, based on a shared view of the family. Against this background, it is not easy to raise the issue of families that fail to fit the heteronormative mould and are left undefined and unsupported. Happy Family, A Home Counselling Centre attempts to make space for debate and reflection not only on mental health, but also on the family and its changing definitions.
Klaudia Strzyżewska
translation: Krzysztof Kotkowski
Karolina Balcer's exhibition Happy Family, A Home Counselling Centre
Opens 7 October
Arsenal Municipal Gallery
Open until 8 January 2023
© Wydawnictwo Miejskie Posnania 2022
Photograph: Karolina Balcer at the exhibition's opening