Do it in winter! Do it in Poznań!
December is the month in which the days are the shortest and the nights the longest. A month in which heat lovers break out their thick sweaters and wool socks, while all the cold-loving people sharpen their ice-skates and prepare for a dip. For many of us, winter is a tough season that keeps us cooped up indoors. Therefore we've set ourselves the goal of breaking this stereotype, overcoming winter's bad image and demonstrating it is a chance to indulge in a bit of craziness and pursue off-the-wall ideas and plans. We want to convince Poznanians and tourists alike that winter is the time to be active, even when frost is biting. It can also be a time for culture, meeting interesting people and exploring thrilling locations. We have prepared a dozen or so exciting ideas and warming activities for you. Try all of them, or at least a few, and join us to break the bad spell of winter!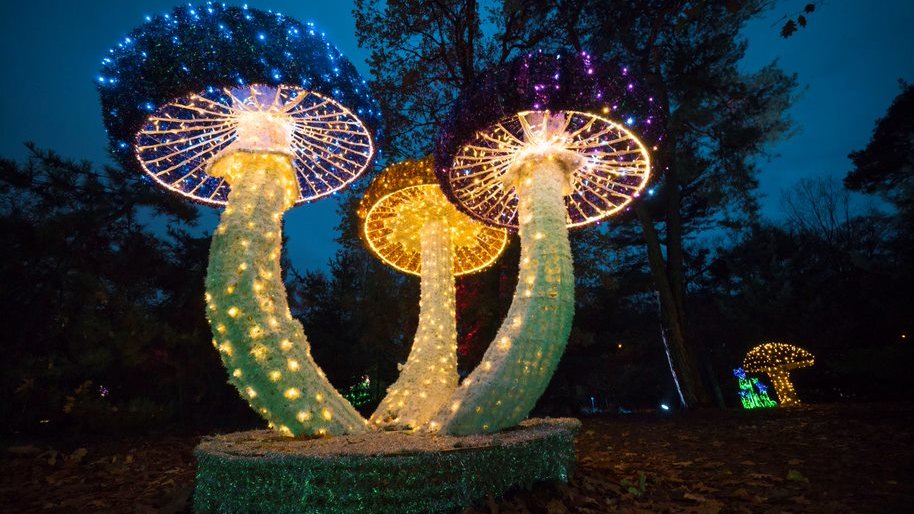 1. Ice land
Ice rinks divide Poznań residents into those who live closer to Chwiałka and those who prefer the Malta. Both are the names of ice rinks, Chwiałka (the Witalis Ludwiczak Ice Rink) being the one that offers skaters 1,800 sq. meters of perfect ice surface. This is equivalent to a full-sized ice hockey field! In occasional evenings, once recreational skating ends, you can catch a real hockey game! Equally cold ice with the added bonus of being on a lake front, can be found in Malta whose rink is admittedly smaller. However, it gets a whole lot hotter there every Friday and Saturday during the dance Ice Party! The facility comes complete with a cloakroom, skate rental and a skate sharpening service.
Chwiałka Ice Rink: ul. O.M. Żelazka 1, posir.poznan.pl/obiekty/chwialka/lodowisko
Malta Ice Rink: ul. Jana Pawła II/5, posir.poznan.pl/obiekty/malta/lodowisko
2. All you need is snow!
You can do it in Morasko, Szachty, the Citadel, the Marceliński Wood, areas around Lake Rusałka, Lake Strzeszynek and along the Warta. All these are Poznań's prime cross-country skiing routes suited perfectly for fans of the classic style, and those who prefer the skating technique, whether amateur and professional. What kinds of routes? You name it, they come in all lengths, downhill or uphill. All that's left for you to do is wait for it to snow and then hit a fresh trail. For those who prefer downhill skiing, Malta Ski is always there too! When the snow is down, Malta Ski slopes (150 m with two chairlifts and 30 m with a surface lift) are open daily until 9pm.
Sports goods shop and cross-country ski rental: ul. Racławicka 91, Poznań, muszakski.com.pl
Malta Ski: ul. Wiankowa 2, maltaski.pl/stok-narciarski
3. Ice dipping and sauna
The winter dipping fad appears to be here to stay as ice-cold water bathers can be spotted braving just about every major body of water. Winter bathers have been using lakes in and around Poznań for years now. Two informal groups called Morsy Poznań and Złotniki Morsuj meet at Lake Kierskie (on Łabędzia Beach) every Sunday at 11am between October and April. Their stated mission is "to reap the benefits of winter dipping through recreational use". Other such groups meet at Lake Lusowskie in the municipality of Tarnowo Podgórne. You can join in at any time, without a special invitation or an entrance exam. Whether after or before an icy bath, you can pop into one of the outdoor saunas (wood-fired, with a lake view) that park throughout the winter near the most popular ice dipping spots.
Ice swimming: Kiekrz, Lusowo, facebook.com/morsy.poznan, facebook.com/morsylusowo
4. Morasko Hill sledding
A unique group of meteorite craters can be found in the Morasko Meteorite Reserve in the north of Poznań. The Morasko Hill, which lies at its centre, rises to 153.80 m above sea level, which makes it Poznań's highest elevation. The reserve is a great area for nature walks and nature watching any time of the year. Winters there are particularly alluring, and although heavy snowfall is rare, once it snows, the hill slopes make a perfect sledging area. One highly popular spot is the slope next to Forest Parking at ul. Meteorytowa 1.
Morasko Hill (Góra Moraska), ul. Meteorytowa 1, salamandra.org.pl/rezerwat.html
5. A movie at a vintage cinema
Poznanians adore cosy atmospheric cinemas. There is no popcorn sold and no commercials before movies start. The oldest (and one of the most popular) of them is Muza on ul. Św. Marcin. After major remodelling in 2019, it has become one of Poznań's most advanced studio cinemas, fitted with a harkness® screen (which is about as good as screens get anywhere in the world!) and a Dolby Digital 7.1 sound system. Muza has a rich history. It has changed its name several times since it first opened in 1908. It finally settled on Muza (Polish for muse) in the 1950s. Its hallmarks are an ambitious and excellent repertoire and outstanding festivals.
Muza Cinema, ul. Święty Marcin 30, www.kinomuza.pl
6. Christmas in Orthodox church
You don't have to go to the Podlasie region to celebrate Christmas Eve with Orthodox Christians on 6 January. For nearly a century (since 1924), Poznań has been home to St. Nicholas Orthodox Parish. For over three decades, the parish has been run by Fr. Mithrat Paweł Minajew. The church itself on ul. Marcelińska is inconspicuous. Rather than an edifice capped with magnificent golden domes shimmering in the sun, you will see a small building that once served as a, wait for it, wooden stable of the Wielkopolska Uhlan Regiment. The church's present appearance is the result of a reconstruction in the early 1980s. Step inside and you will see an amazing 18th century iconostasis. On Christmas Day, you will not hear Christmas carols or see a manger there. Instead, there will be an icon representing the birth of Jesus.
St. Nicholas Orthodox Parish in Poznań, ul. Marcelińska 20, FB: facebook.com/cerkiewmikolajpoznan/
7. Lakeside gallery
Swathes of open land around Strzeszyńskie Lake make an ideal space for winter-time exercise, whether it is running, walking or lake dipping. Perhaps less expectedly, it is also a great place to spot works of contemporary art. Dispersed over this picturesque area is a collection of 16 sculptures and 3D objects, including the intriguing A Painting Devouring Implements of Recreation, A Button to Vision Theory and The Graduation Tower of Art. Watching and interpreting them is great fun whether you are a child or an adult. They are outdoors, free and available at any time!
Poznań Visual Park, ABC Gallery, ul. Koszalińska 15, abcgallery.pl/visual-park
8. St. Francis style
The Christmas crèche tradition begun by St. Francis continues to this day. In Poznań, nativity scenes can be found in just about every church. Many Poznanians visit them to soak up the Christmas spirit. Poland's largest crèche is constructed every year in Poznań's Franciscan church at pl. Bernardyński. It occupies the entire presbytery! A less known attraction is the moving nativity scene in St. Wojciech (St. Adalbert) Church. It features famous figures who've played a prominent role in Poznań's history with historical commentary.
Poland's largest nativity scene: Franciscan Church, ul. Garbary 22, www.franciszkuje.poznan.pl
Moving nativity scene: St. Adalbert Parish, Wzgórze Św. Wojciecha 1, www.swietywojciech.archpoznan.pl
9. Sunny in Thermal Baths!
The Malta Thermal Baths are Poland's largest recreational and sports facility complex to use natural geothermal waters. Its host of attractions to choose from includes a sports swimming pool, a waterpark with a wave pool and a selection of mad waterslides, as well as a sauna and bath zone, which is particularly popular in winter. Fans of the latter are split between those who choose gently warming aromatic and flower baths, and the brave ones who immediately plunge into a hot Turkish bath. In the Malta Thermal Baths, warm outdoor pools are available for swimmers even during cold winter and you don't have to be an ice swimmer to enjoy them!
Malta Thermal Baths, ul. Termalna 1, termymaltanskie.com.pl
10. City rats in wonderland
Although the bright Illumination Park is new in Poznań, the attraction is already a major crowd draw! No wonder, as the magical forest in the dendrological park of the University of Life Sciences will delight anyone who is tired of winter gloom. The Illumination Park comes with millions of LED bulbs and an over-kilometre-long route with light shows and multimedia effects. Visitors are in for displays of colourful trees and enchanted mushrooms that conceal many secrets. All visitors receive an illustrated map that allows them to discover and explore on their own the park that has already earned the name Magic Forest.
Lumina Park, Dendrological Garden of the Poznań University of Life Sciences, ul. Warmińska 2, luminapark.pl/poznan
11. You too can crack the Enigma!
The Enigma Cipher Centre is a newly opened exhibition whose visitors can discover the secrets of ciphers in ingenious and visually attractive ways, with the Enigma cipher machine featured front and centre. You can visit it in many ways: by watching multimedia materials, listening to the history of encryption,... taking a practical exam on codes, or trying your hand at code breaking at a level of difficulty of your choice. Many visitors walk away with a passion for cryptology and want to return for ever more difficult challenges.
Enigma Cipher Centre, ul. Święty Marcin 78, https://csenigma.pl/en/
12. A modern time machine
Man does not live on the present alone. Porta Posnania on Cathedral Island will take you on a journey through time, straight to the beginning of the Polish state. You will hear a story about long-gone times delivered in a modern and unusual way with multimedia technology. This approach has little to do with traditional museums and children love it. Do take them along and they are sure not be bored. Porta Posnania offers scores of cultural events, among them workshops, concerts and exhibitions. It also cares for the environment, including the nearby Cybina River.
Porta Posnania (Brama Poznania), ul. Gdańska 2, www.bramapoznania.pl
13. Tropics in the middle of winter
Do you prefer desert succulents or tropical forest plants? The Poznań Conservatory features over 1,000 interesting plant species (and 17,000 plants in total!). All this in one place, without having to travel on a warm-weather country holiday. While admiring the plants, you can also see an aquarium with 170 species of fish from around the world, visit a café and souvenir shop, and once you have left the Conservatory building, take a walk in the historic Wilson Park, which conceals many secrets (including German air raid shelters from World War II).
Poznań Conservatory, ul. Matejki 18 (Wilson Park), www.palmiarnia.poznan.pl
14. The Poznań pastries
It's no feat to buy and eat a St. Martin's croissant. Try making one yourself to a traditional recipe... In the Croissant Museum of Poznań in the Old Market Square, you will not only bake your own croissant, but also hear the history of Poznań and the local dialect. Also on offer is a selection of croissant gifts and souvenirs. You can even earn a pastry artisan's certificate. Last but certainly not least, you will be visiting a historic, renaissance townhouse, which houses the museum, with a view of the town hall and the billy goats.
Poznań Croissant Museum, Stary Rynek 41/2 (entrance on ul. Klasztorna 23), www.rogalowemuzeum.pl
15. Poznań Bethlehem here and there!
Poznań's Christmas market in Poznań returns to Plac Wolności after being cancelled last year due to the pandemic. Handicraft stands, delicacies from various regions and traditional mulled wine are just some of the attractions awaiting Poznań residents and tourists. Now that the Old Market Square is being renovated, the city's Christmas tree this year will be set up in Plac Wolności. Bethlehem will come to the Łazarz district as well and specifically to its renovated Łazarz Market Square and Kasprowicz Park.
Plac Wolności: 20.11-26.12.2021, Łazarski Market Square: 4-19.12.2021, Kasprowicz Park: 26.11-19.12.2021
Poznań Bethlehem, www.betlejempoznanskie.pl
16. The mysterious church on Cathedral Island
The shrine by the Cathedral is one of Cathedral Island's key historical monuments. The church has been recently reopened after a major renovation. It is worth visiting after many years of having been mostly closed to the public. Its beautiful interior features polychromes painted by Wacław Taranczewski. Multimedia devices presenting the history of the Poznań stronghold have also been installed. An art installation around the church shows the exact outline of Mieszko I's palace, which was located on this site. The church can be visited on Saturdays and Sundays between 11 am and 2 pm. It can also be seen on working days on appointment with the Genius loci Archaeological Reserve (tel. +48 61 852 2167).
Church of Our Lady in Summo, ul. Ostrów Tumski, rezerwat.muzarp.poznan.pl
17. Celebrate Wielkopolska Uprising anniversary
27 December marks the 103rd anniversary of the outbreak of the Wielkopolska Uprising. For the first time in history, the day will be a public holiday, the National Day of the Victorious Wielkopolska Uprising. As always, the event's programme will be arranged by the Wielkopolska Marshal's Office (which is generally responsible for organising official celebrations) and the Museum of the Wielkopolska Uprising 1918/19, a branch of the Wielkopolska Museum of Independence (which will invite visitors to the insurgent camp at the monument of the 15th Poznań Uhlans Regiment). At 4:40 pm in the city centre, an insurgent light show will be held by the fans of the Lech football team.
Anniversary of the outbreak of Wielkopolska Uprising: 27 December, www.27grudnia.pl, www.wmn.poznan.pl
18. Visiting a monitor lizard
Zoo visits are usually thought of as a warm-weather affair. However, a certain place in Poznań's Jeżyce district is very much worth visiting in winter. That place is the cold-blooded animal pavilion in the Old Zoo. Even in the middle of the harshest winter, you can go there to see fish, lizards, and even a real tropical dragon, which is another name for the monitor lizards to be found on Komodo Island. The exotic interior and agreeable temperature will surely help on a cold, gloomy and/or rainy day! Old Zoo visitors are welcome to see regular feedings of crocodiles and other reptiles. The zoo announces upcoming events on its Facebook pages.
Old Zoo, ul. Zwierzyniecka 19, www.zoo.poznan.pl, facebook.com/starezoopoznan
Note! Due to Covid-19, it is best before you visit to make sure our facilities are open and check the dates of cultural events with organisers.
Edited by IKS Editorial Office and kulturapoznan.pl
translation: Krzysztof Kotkowski
© Wydawnictwo Miejskie Posnania 2021