All roads lead to Rome
Last year, the Posnania Municipal Publishing House ran a campaign of collecting stereoscopic photographs and souvenirs for the Poznań Fotoplastykon. The images they garnered included a great number of stereoscopic photographs of Rome dating back to the late 19th and early 20th centuries. We found them fascinating and felt inspired to delve deeper into the subject.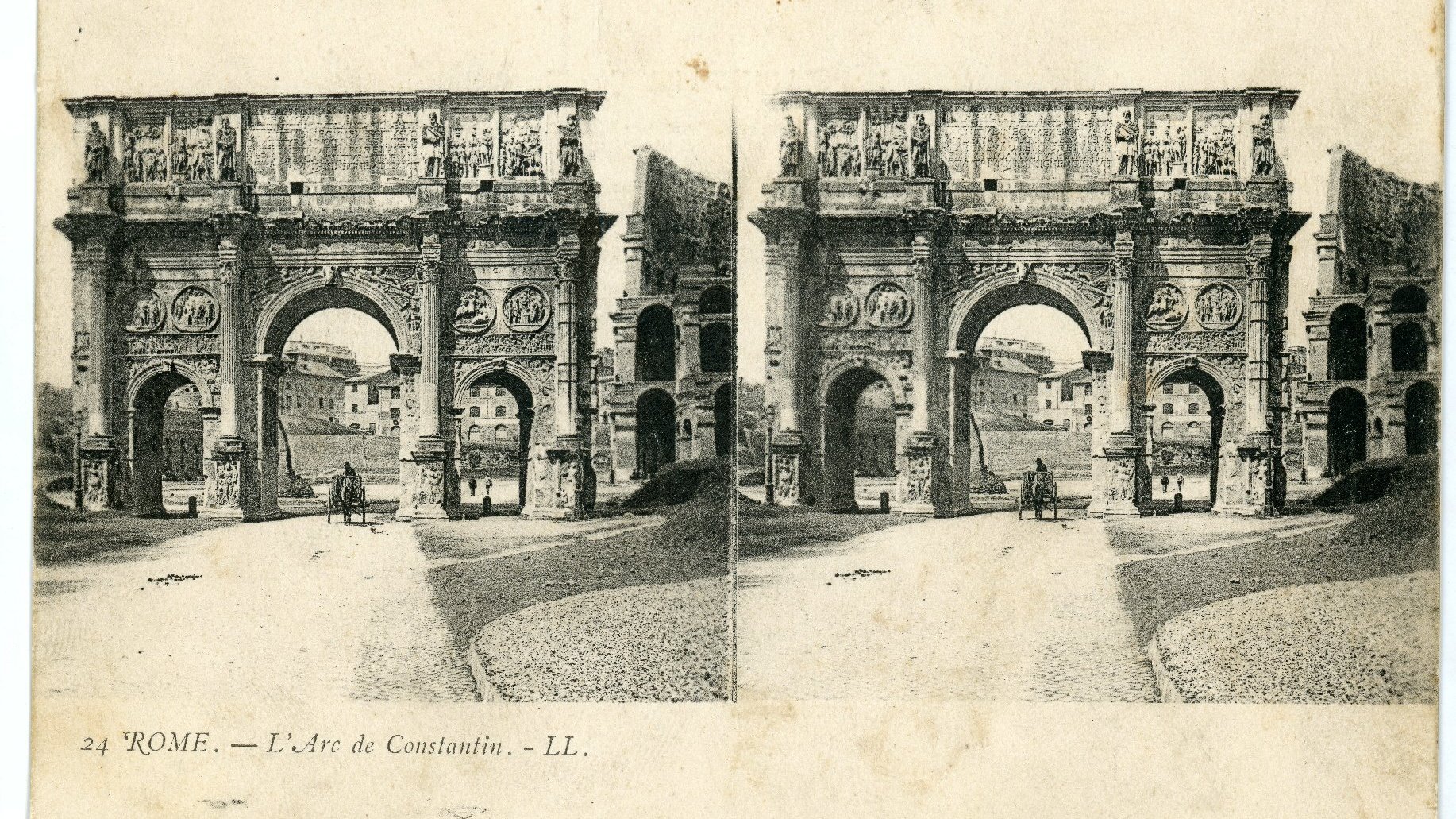 The Eternal City, capital of the world, the cradle of civilization and culture: all these terms readily come to mind at a mere mention of Rome. And no wonder as the city is chuck-full of remnants of history dating back over two millennia. These include the invariably breath-taking ancient ruins and a number of more recent temples, palaces, monuments, fountains, and astonishing works of art on display in museums and churches.
Rome has always topped popularity lists of tourist destination cities. Each year, millions of visitors delight in its unique atmosphere. As we are unable to describe all of the sights worth seeing, we will limit ourselves to those presented at the Poznań Fotoplastykon exhibition. Unsurprisingly, they show the remains of such ancient Roman monuments as the Roman Forum - Rome's oldest market square, the Colosseum - an amphitheatre dating back to the 1st century that witnessed gladiator fights, and the Pantheon - one of the best-preserved temples from that period. Other attractions include Rome's oldest road - the Appian Way (4th century B.C.) and ruins of the Aqueduct of Claudius which supplied Rome with water in the early 1st millennium AD.
The stereophotographs also feature works of art by great artists, including the famous Michelangelo sculptures Pieta and Moses, as well as his frescoes in the Sistine Chapel. Also to be admired in 3D are the Trevi Fountain and the Spanish Steps leading to the Church of Trinità dei Monti. Given the great importance of Rome for the Christian community, one cannot miss the Vatican and particularly St. Peter's Square and St. Peter's Church, as well as the Vatican Museums, whose extensive collections have been available to the public since the 18th century.
Fotoplastykon will allow you to travel through time and see the way all these sights looked over a century ago.
The images on view at the exhibition come from the collections of Andrzej Mularczyk, Tomasz Bielawski, and the Warsaw Fotoplastykon.
Anna Smolarkiewicz, Paulina Węgielnik
translation: Krzysztof Kotkowski
All roads lead to Rome - an exhibition in the Poznań Fotoplastykon
Centrum Informacji Kulturalnej (Cultural Information Centre), ul. F. Ratajczaka 44
1.04.2022 - 2.08.2022; opening hours: Monday - Friday 10 am - 6 pm, Saturday 10 am - 5 pm, Sunday closed, last admission 1 hour before closing time
tickets: regular admission - 5 pln, reduced admission - 2 pln, family tickets - 10 pln, group tickets (groups of 10 or more) - 20 pln
© Wydawnictwo Miejskie Posnania 2022