A loan in which talent is currency
Due to its ongoing remodelling, Święty Marcin is a street that most Poznań dwellers steer clear of and only visit when absolutely necessary. Its intersection with al. Niepodległości will not be restored to full functionality any time soon. For the time being though, we suggest you ignore what you see and shift your focus to what you can hear, and specifically to violin music, which once again will resound in Poznań as the city turns into the world capital of violin.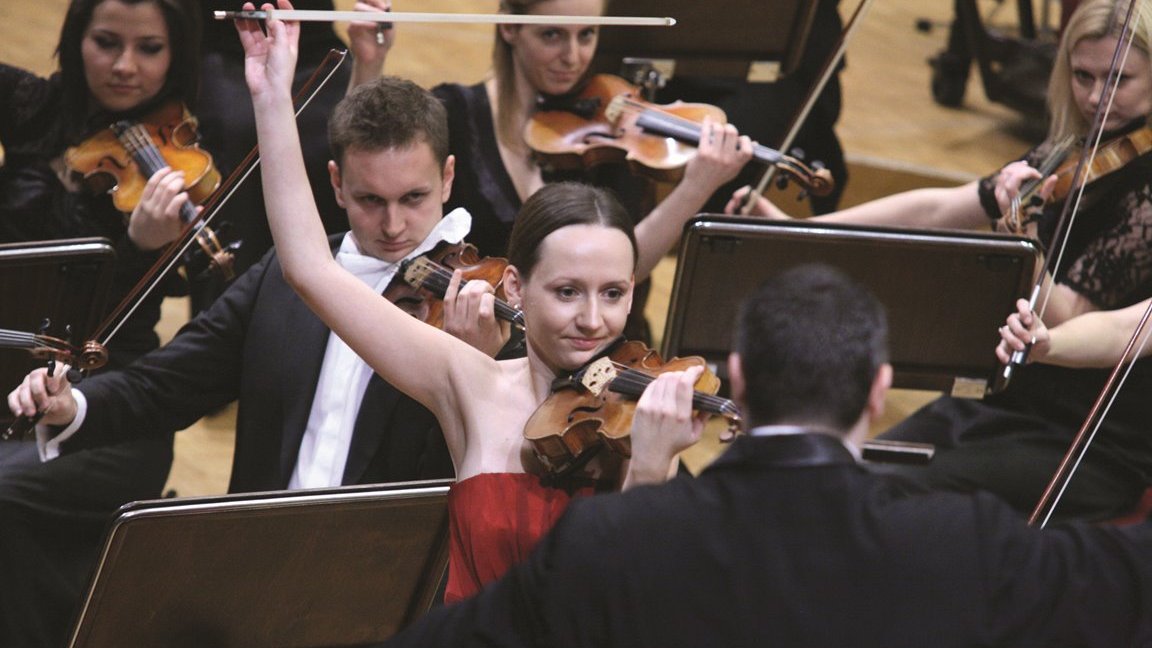 The history of the Henryk Wieniawski International Violin Competition dates back to the pre-World War II era. Its first 1935 edition was preceded by a year and a half of preparations. And despite being established a few years after the Chopin Competition, which by that time had had two successful editions under its belt, the Wieniawski Competition is Europe's oldest and uncontestably the world's most prestigious violin event of its kind.
Its long-standing tradition attracts to Poznań top young violinists from across the world. Winning "the Wieniawski" is a ticket to an international career, as evidenced by the success of numerous world-renowned artists who have won one of its fifteen editions to date, among them Marina Yashvili, Ginette Neveu, Zakhar Bron and David and Igor Oistrakh. Scores of outstanding Polish violinists have also been embraced internationally after they took part in the event. Polish Wieniawski laureates include Kaja Danczowska, Agata Szymczewska, Wanda Wiłkomirska, Krzysztof Jakowicz, Robert Kabara, Bartłomiej Nizioł and many more.
A hallmark of Poznań
Audiences have come to take for granted the regularity with which key international music competitions are held. Every five years, they become piano lovers for the Chopin Competition only to shift their support to violinists during a Wieniawski event in the following year. The pandemic has kept us waiting one year longer for each of these events. This is not the first exception to the rule of holding successive editions of the Wieniawski Competition at five-year intervals.
While its first edition took place in 1935 in Warsaw, the following one did not occur until 17 years later, which in fact makes a whole generation. "It was pure luck", says the competition's chronicle about why the 2nd competition in 1952 took place in Poznań. As the capital city underwent extensive post-war reconstruction, there was simply no venue in which to hold it. Since then, Poznań and the Henryk Wieniawski Music Society became regular hosts of the competition, their venue of choice being Adam Mickiewicz University Auditorium.
This said, the selection of the capital of Wielkopolska was not entirely fortuitous. It was in Poznań that Henryk Wieniawski gave eighteen of his concerts (most of them in a duo with his pianist brother Józef). This statistic makes Poznań second only to Warsaw in terms of the number of his appearances. Even during Wieniawski's time in the mid-nineteenth century, Poznań audiences took keen interest in violin music. This is evidenced by one of the letters in which Henryk Wieniawski describes the warm reception he was given in 1854: "We appeared in a beautiful tightly packed hall into which you couldn't wedge a pin. After our [final] concert, we were serenaded and showered with flower bouquets."
The feminization of the Wieniawski
"As before the most recent Chopin Competition, the participants of the Wieniawski Competition gained an extra year for preparation," notes Michał Francuz, the pianist chosen to accompany the contenders in their recitals. "This holds a promise of particularly high quality. The violinists joining this year's edition are the best in the world", he adds.
This year, a record number of violinists from all over the world have sought admission. The preliminaries were based on recordings. Contestant age limit was set at 31 years. "Although the application process was highly demanding, we received over 220 requests from thirty countries", says Karolina Kaźmierczak, director of the 16th H. Wieniawski International Violin Competition. "The jury admitted 41 artists, including 27 women and 14 men, to the auditions. A month ahead of the competition, 39 artists confirmed they were coming to Poznań.
Although male and female musicians have enjoyed equal treatment for years, it is worth noting that the Wieniawski Competition may well be the first currently existing music competition to have allowed women to participate. The undisputed wisdom of this decision was demonstrated by the success of the French female violinist Ginette Neveu, who won the first edition at the tender age of fifteen.
Thus far, women have ascended the competition's podium on eight occasions. In the most recent four editions, they included Alena Baeva, Agata Szymczewska, Soyoung Yoon and Veriko Tchumburidze, winner of the 15th edition in 2016. Veriko Tchumburidze will in fact appear on 7 October as the star of this year's inaugural ceremony. With the accompaniment of the National Philharmonic Orchestra conducted by Andrzej Borejek, she will perform Violin Concerto in A minor, Op. 53 by Antonín Dvořák.
The competition procedure
Early editions of the International Henryk Wieniawski competition would proceed in two stages. The following years saw another stage and even two being added to accommodate an expanding programme. This year's formula involves three rounds of auditions. In round one, scheduled for 8 to 11 October, the jury will hear violinists in a solo and piano-accompanied programme, each performing, among others, compositions by Henryk Wieniawski, the competition's patron.
The committee will then advance fifteen participants to the second stage. This stage consists of two parts: a recital with piano accompaniment (12-13 October) to be performed with either of the two competition pianists: Grzegorz Skrobiński and Michał Francuz. Each semi-finalist will also present the W.A. Mozart concert symphony for violin, viola, and orchestra. In this part of auditions (14-16 October), they will be accompanied by the alto violists Katarzyna Budnik, Michał Bryła and Ryszard Groblewski and by the Amadeus Chamber Orchestra of the Polish Radio conducted by Anna Duczmal-Mróz.
The third stage (18-20 October) will encompass performances by six violinists. Throughout the competition's history, it has been obligatory at this stage to perform one of the two violin concertos by Henryk Wieniawski. Moreover, the finalists will present a concert by the Romantic period composers Beethoven, Brahms, Dvořák or Mendelssohn. This most exciting part of the auditions will have soloists on stage accompanied by the Poznań Philharmonic Orchestra conducted by Łukasz Borowicz.
The contestants will be judged by an international jury headed by the French violinist Augustin Dumay. The 12-member jury will also comprise other soloists, conductors, and music producers, including five Poles. The awards gala and the winners' concert will be held on 21 October. The winners' performance will then be repeated in the National Philharmonic in Warsaw on 23 October.
A lot to fight for
Although the competition is highly demanding on the participants, they have a lot to fight for. In addition to the statutory financial prizes collectively amounting to €115,000, a number of other extra-statutory and special distinctions will be bestowed. Unique for this edition is the sheer number of the performances included in the winner's international concert tour scheduled for late 2022 and for 2023, which has already exceeded fifty.
"Many soloists, be it Wieniawski Competition laureates or jurors, are associated with our orchestra and excited to revisit Poznań", says Łukasz Borowicz, musical director of the Poznań Philharmonic. "Recent history shows that a number of prominent violinists visit the city between competitions. Suffice it to name Gil Shaham, Nicolaj Znaider and Henning Kraggerud. We regularly perform with Bomsori Kim, winner of the previous edition's second prize who is currently having a spectacular career. As a soloist, she has performed, among others, on our last tour overseas just before covid broke out."
Collaboration as a remedy for pressure
The competition's large demanding programme provides ample material to evaluate and appreciate not only virtuosity but also many other less obvious aspects of musical craftsmanship. Many repertoire challenges await the contestants in which to demonstrate their versatility. Very telling at the first and the second stage is the way a given violinist works with the accompanying pianist.
"Cooperation is always key", says Michał Francuz. "The competition's repertoire is not as much about the accompaniments as it is about chamber music. Needless to say, I will not impose my vision on anyone. My job is to make every effort to ensure that the violinists feel comfortable playing with me. At this level, musicians can be very flexible, and I don't doubt we will find a lot of room for working together, even if my role is not limited to playing. During the competition, young instrumentalists are under a lot of pressure. I come in, in a way, as a go-between that brings them and the jurors together. What I can provide to them is mostly support and mentoring, both on and off stage, to make them feel they are not in this alone."
A multifaceted challenge
Each semi-finalist will face a chamber orchestra when performing Mozart's Sinfonia concertante. The task is unique as the piece features two chamber soloists with equal status: a violinist and an alto violists. And just as before their chamber recital, the contestants only have one rehearsal on the day of their performance to get comfortable with the orchestra and find a common language with the co-soloist. This stage is also particularly demanding for the violist who accompanies the violinist.
"My role has many parallels with sports", says Michał Bryła, who, as a violin student at the Poznań Academy of Music, took part in the 13th edition in 2006, and is currently one of the three violists accompanying violinists in Mozart. "Being a perfectionist in my performance, I'm prepared as well as I can possibly be. But I am aware I am expected to play impeccably ten times in a row (in five rehearsals and five stage appearances)", he admits. "For a violist, performing the sinfonia concertante in a competition in which violinists are judged is a multifaceted challenge. Many years of chamber music experience allows me to adapt to a fellow musician. On the other hand, my role as an artist is also to propose an approach, especially that the viola often initiates a given fragment. I have to be a bit like a glove, flexibly adapting to what the violinist wants, without foregoing my own ideas. I think that apart from the performance itself, the ability to work together and mutually influence one another will also be assessed, and sinfonia concertante offers ample room for evaluating a violinist's handling of chamber music."
"Being older than any contender, and therefore probably more stage experienced, I can offer a certain degree of inspiration to the people I play with", observes Bryła. "This is actually fantastic for violinists as they can benefit from my confidence. Such support can be precious. I remember the competition from the contender's perspective - I am very familiar with this environment. Even now though, I experience the competition's emotions."
Symphonies with violin
Qualifying for the Henryk Wieniawski International Competition alone is a major achievement for any violinist. Poland brags having the highest number of as many as seven such artists. One should note the unique support that has been extended to the Polish musicians in their competition preparations. As part of the Wieniawski on Tour concerts, they were afforded opportunities to play programme pieces before live audiences months before the actual auditions. During open rehearsals and concerts held in September in Poznań and Ląd along the Warta River, each of them had a chance to appear solo before the Poznań Philharmonic Orchestra conducted by Łukasz Borowicz and perform the violin concerts they were preparing for the competition's final.
"In line with our main aim of promoting Polish music and filling in blank spots, we want to showcase Poznań again as the home of Polish violin", says Łukasz Borowicz. "During this year's competition, Maciej Żółtowski will perform the latest critical source edition of Henryk Wieniawski's Concerto in F sharp minor. We are probably the only ones in Poland to have explored nineteenth-century sources which we now nurture and bring to audiences with the greatest of care."
"The performance in the final is not limited to accompaniments and also includes symphonies with violin", notes Borowicz. "Each piece, even a Brahms or Beethoven concert, is a poetic orchestral delight. The orchestra has been playing this repertoire for years, but thanks to the band's passion, inquisitive spirit and diligence, there is hardly any routine in the way we approach the violin competition. We often play lengthy long-forgotten pieces and bring composers back from obsolescence. Neither do we avoid masterpieces. Each Wieniawski Competition is a new adventure and an opportunity to interpret masterpieces together with the soloists, which makes for an incredibly enriching experience for each of us."
A high-interest loan
Agata Szymczewska, winner of the 13th Henryk Wieniawski Competition, is the ambassador of its current edition. At the September press conference, she recalled her appearances in the 2006 competition and how feelings of uncertainty and self-doubt mixed with excitement and elation. "A had a strong suspicion that the competition would be a great opportunity," she confessed. "I believe that this year's winner will be well aware that in his or her life, joining the competition is like taking out a loan that you repay for many years. The interest is very high and the currency is not the zloty, dollar, or euro, but rather talent and hard work. We will all benefit from this great talent."
"We hope that the 16th Henryk Wieniawski Competition will go down in history as one of the most interesting editions, and that the artistic quality of the performers will delight all music lovers", adds Alina Kurczewska, President of the Henryk Wieniawski Music Society. "It may well have been that Henryk Wieniawski prophetically composed his Souvenir de Posen for a city that has for years been attracting virtuosos from all over the world. We hope that every contestant and audience member who follows the competition in October will have a chance to make memories that become his/her own unique souvenir of Poznań."
Tickets to auditions (PLN 30-120) and concerts (PLN 150-400) and event passes can now be purchased at the Poznań Philharmonic box office and online. Live coverage of the competition will also be provided online and on radio and television.
Magdalena Lubocka
translation: Krzysztof Kotkowski
16th International Henryk Wieniawski Violin Competition
Adam Mickiewicz University Auditorium
7-21 October
For more, see: konkurs.wieniawski.pl
© Wydawnictwo Miejskie Posnania 2022