A few words on the margin
The exhibition of posters by Boris Bućan in the Arsenal Gallery is one of the first solo shows of the work of this Croatian artist to be held in Poland. While a dozen plus works by the artist were originally announced, only some of them will need up on view for reasons beyond the Gallery's control. Nevertheless, the few posters that are expected to come will undoubtedly make the retrospective well worth a visit.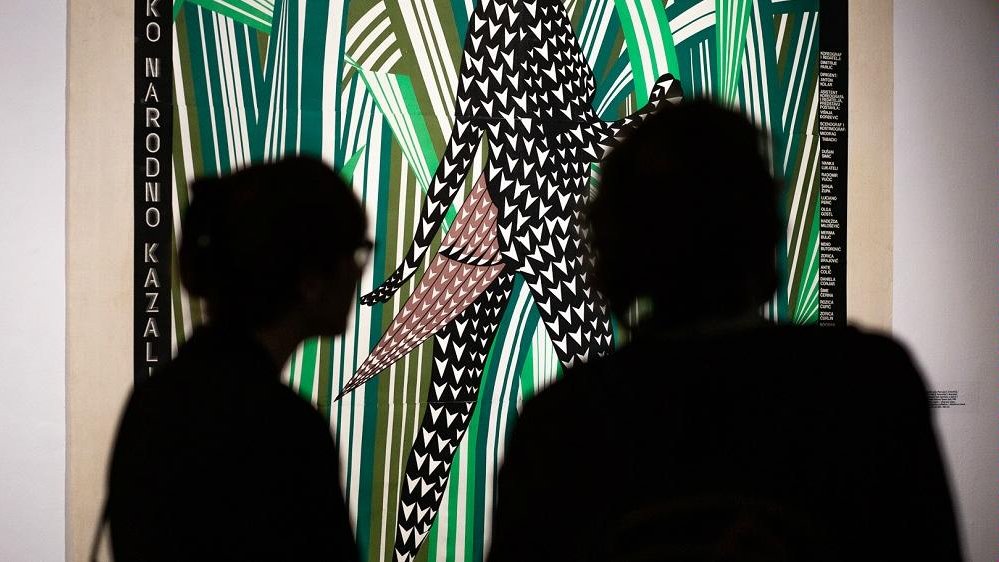 Boris Bućan's name is associated primarily with Yugoslav pop art and the rebellion by other Croatian artists waged in the late 1960s against the institutions disproportionately favouring the placement of the works by some artists in the country's galleries while barring access to exhibition space to others. In the late 1960s and the early "70s, Boris Bućan was a minimalist who faithfully subscribed to the principles of conceptualism. The form of his works boldly combined multiple techniques and media while the motifs of his creations were inspired by daily life. The 1980s marked a radical turn in Bućan's concepts and approach. It is this period in Bućan's artistic life that this exhibition sets out to revisit.
Posters as works of art
Although many people today find all posters to have artistic value, the popular belief is that, as a form of advertising, the poster must follow certain  principles whether it advertises a cultural event or something entirely different. Such principles include those that call for the text to echo the image without confusing the message about the what, the when and the where, the author and the occasion on which the event is held. What this means simply is that the visual presentation, although obviously important in itself, must share space and match the verbal message, which is always derived from the image. This does not mean that poster artists should relegate the image to a secondary role. Still, there is always a small "but" that makes them remember their work is not all about the image.
Formally, therefore, the image should remain cool and composed. What does this imply in practice? It suggests the image should appeal to viewers with its form without being overly dominating or at least not so dominating as to distract people from reading the text. Hence, it is commonly believed it is best to rely on simple "graphics", preferably synthetic in form.
As soon as one sees Boris Bućan's posters though, a very different way towards all these aims makes itself evident. It also becomes obvious that if posters are seen as images through which viewers are reached not only by advertising or information (which in fact boils down to the same thing), they gain value as works of art while the interest they arouse is in no way delegitimized. Boris Bućan treats this medium as a vehicle for his artistic expression in which no form needs to be limited, synthesised, simplified or forcefully filled with words to make sure the client does not think of rejecting the preliminary design as overly confusing. Bućan embraces traditional forms such as painting and drawing, which he uses as components that help him create a new artistic quality. He allows them to appear front and centre in his composition. Neither is Bućan afraid of using unconventional formats such as the 210 x 200 cm poster, which can hardly be considered standard. This alone screams a true visual work of art as opposed to a modest form of advertising and promotion.
Colour, dynamics and whatever your heart desires
The posters shown at the exhibition were commissioned by the Croatian National Theatre of Split. They were envisaged as works informing prospective audiences about the performances to be staged in the playhouse. "Parsley" and "The Firebird" by Igor Stravinsky, "The Father" by August Strindberg and "Roko i Cicibela" by Miljenko Smoje are just some of the many examples of works that inspired Bućan to produce his interpretations and carve out his own path that was independent and engaged in dialogue with the art of other artists. Information about where and when a performance takes place was treated as separate and kept from disturbing the overall composition. The artist developed his own way to do this: he placed the bulk of the information around the margins turning them into a frame of sorts for the central composition. At times, the writing is not even legible from afar but then - as it turns out - it does not need to be. Bućan's assumption seems to have been that anyone who takes interest in the image, which they will view from a distance due to its large size, should be intrigued enough to step closer and read the inscriptions.
Notably, the artist was very particular about his lettering, which he often approached it in a unique way. The fonts he designed are small works of art in their own right rendered in a form that resonates with the image.
As for the images themselves, Bućan approached every project individually so as to not only reflect the nature of a given play but also to find space for himself and his search. Hence, some of the posters place more emphasis on the drawing, the line that goes as far as to become uneasy. For others, he designed oriental shapes or employed sparse spots and lines that engage in an intricate interplay. The artist uses a wide range of devices and skills to bring all these components together. His posters stand out with their dynamic shapes and intense colours. Some of them are cases of horror vacui with the artist seeming obsessed to fill every little bit of space.
Bućan's posters live their own lives without denying that their purpose was also to tell people about something specific and keep them informed. And still, the story offers evidence not as much for the fact that art knows no rules business rather that the rules that do exist can always be benefit and shifted.
Justyna Żarczyńska
translation: Krzysztof Kotkowski
Exhibition: Boris Bućan - Posters
Arsenal Municipal Gallery
Open until 22 March
© Wydawnictwo Miejskie Posnania 2020