A decade on tippy toes
We are happy to announce that, after its postponement in June, Enter Enea Festival has been rescheduled to August. The event will feature Polish jazz musicians of the young generation, as well as stars from Scandinavia, St. Petersburg and elsewhere. Fixtures from previous editions will also be there, including concerts by the Festival's Artistic Director Leszek Możdżer appearing with guest artists.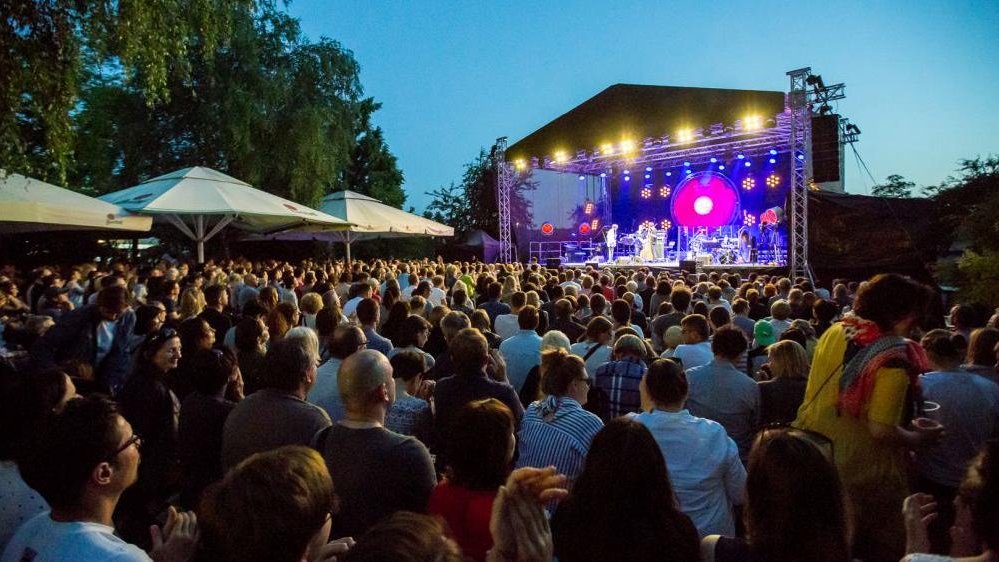 "Enter Enea Festival offers musicians an amazing opportunity to engage in dialogue. Even before the festival begins, rehearsals are held in the ABC Business Club and the Oaza restaurant. Artists take turns playing their instruments, watching and listening to their colleagues rehearse, sharing meals, and talking. My intention has been to set up a creative camp in which inventive energies would rise spontaneously before the artists bring them to audiences", said Jerzy Gumny, director and founder of Enter Enea Festival in an interview for kultura.poznan.pl prior to last year's edition of the event. This dialogue continues despite the change of circumstances. It is a dialogue among musicians, generations, and above all, one with audiences.
The festival was originally scheduled for June. For obvious reasons, the organisers were forced to search for alternative safer dates. However, even on the original dates their loyal fans got a surprise: a celebration of the round anniversary of the Festival's establishment, which happens to be this year. The occasion was celebrated outdoors in a smaller circle, over dinners, to live music. It was attended by Leszek Możdżer who provided a pleasurable sneak peek into the attractions in store for 21-23 August.
The energy of a debut
Enter Enea Festival provides a great opportunity to listen to musicians who, although still young, are already widely esteemed, especially in Poland. While the Strzeszyńskie Lake waterfront stage is not one for debutants, it certainly welcomes artists who can contribute the enthusiasm of a novice.
On the day this article was written (12 July), the festival programme was not yet fully known. What we do know is that Michal Salamon will be part of the artist line-up. "I have always had this inner drive to create, whether individually or with other people. Through music, I can express the things I sometimes find myself unable to express in words", he said in an interview for Jazzarium.pl. The artist has already made his debut. In 2014, he won the IMIT competition's first prize for the Jazz Phonographic Debut of the Year, an achievement he repeated two years later. Salamon is a pianist, composer, arranger and conductor. He graduated from the Kraków Academy of Music. Together with his bands, he has appeared at such festivals as Jazz Juniors, Jazz on the Odra and Warsaw Summer Jazz Days. He collaborates with a number of outstanding artists representing a range of musical styles.
The waterfront stage will see the remarkable Kasia Pietrzko perform with her band, which features Andrzej Święs - the leading double bass player of the young generation, and Piotr Budniak - a drummer who has won most of Poland's most prominent jazz competitions. This young pianist, arranger and composer has collaborated with a number of outstanding musicians, including Adam Larson, Troy Roberts, Henryk Miśkiewicz, Mateusz Smoczyński and Adam Bałdych. Her trio's debut album (Forthright Stories) has garnered rave reviews. In the opinion of prominent Polish jazz musicians, Kasia Pietrzko has remarkable improvisation instincts, harmonic imagination and sonic creativity.
The Kamil Piotrowicz Sextet is the second band to have been founded by the Polish composer and pianist of the young generation Kamil Piotrowicz (piano, compositions). The ensemble has brought together some of the most fascinating personalities of the young-generation jazz scene and outstanding seasoned jazzmen: Kuba Więcek (alto saxophone), Emil Miszk (trumpet), Andrzej Święs (double bass), Krzysztof Szmańda (drums, vibraphone), and Marek Pospieszalski (tenor saxophone). The result is fresh, uncompromising music that transcends genre boundaries.
Beautifully engrossed
"We know that Leszek's involvement as creative artist, musical performer and artistic director has lent an extraordinary quality and atmosphere to the event, making it truly unique. Therefore, we and the audience anxiously await it every year," said Gumny. Indeed, Leszek Możdżer is the one who watches over the festival's quality and defines its character. He also contributes to it himself as a performer. During this jubilee edition, the pianist will join on stage the Amadeus Chamber Orchestra of the Polish Radio and the Swedish double bass player Lars Danielsson.
Another foreign guest of the Festival will be the saxophonist Otis Sandsjo from Sweden with his Y-otis quartet featuring Petter Eldh (bass), Elias Stemeseder (keyboards) and Tilo Weber (drums). They will present improvisations based on electronic music. The line-up will also include the group of Andrei Kondakov, one of Russia's greatest jazz composers and pianists. This brilliant improviser is in a trio with the double bass player Vladimir Volkov and the drummer Gary Bagdasarian. Together, they produce a blend of neoclassical, rock and jazz music characterised by classical harmony and the freedom of contemporary rhythms.
"Here, you tip toe on the grass not to disturb the beautifully engrossed audience", says Leszek Możdżer about his outdoor festival. "Make sure to rise and absorb the music", the jubilee edition promises to be very special indeed.
Aleksandra Kujawiak
translation: Krzysztof Kotkowski
Enter Enea Festival
Strzeszyńskie Lake waterfront
21-23 August
For more, see: enterfestival.pl
© Wydawnictwo Miejskie Posnania 2020