75 years of delight
At the age of eight, Agnieszka Duczmal resolved to take her place behind the conductor's stand, in what heretofore has been the exclusive domain of men. She did this on impulse, galvanised by a symphonic poem by Richard Strauss she had heard at the Poznań Philharmonic. Ever since, her childhood dream has become reality. This year in January, the artist celebrated her 75th birthday. Having spent years appearing on the world's most prominent musical stages, having recorded magnificent albums and created a one-of-a-kind orchestra, she is celebrated as one of the greats of her field.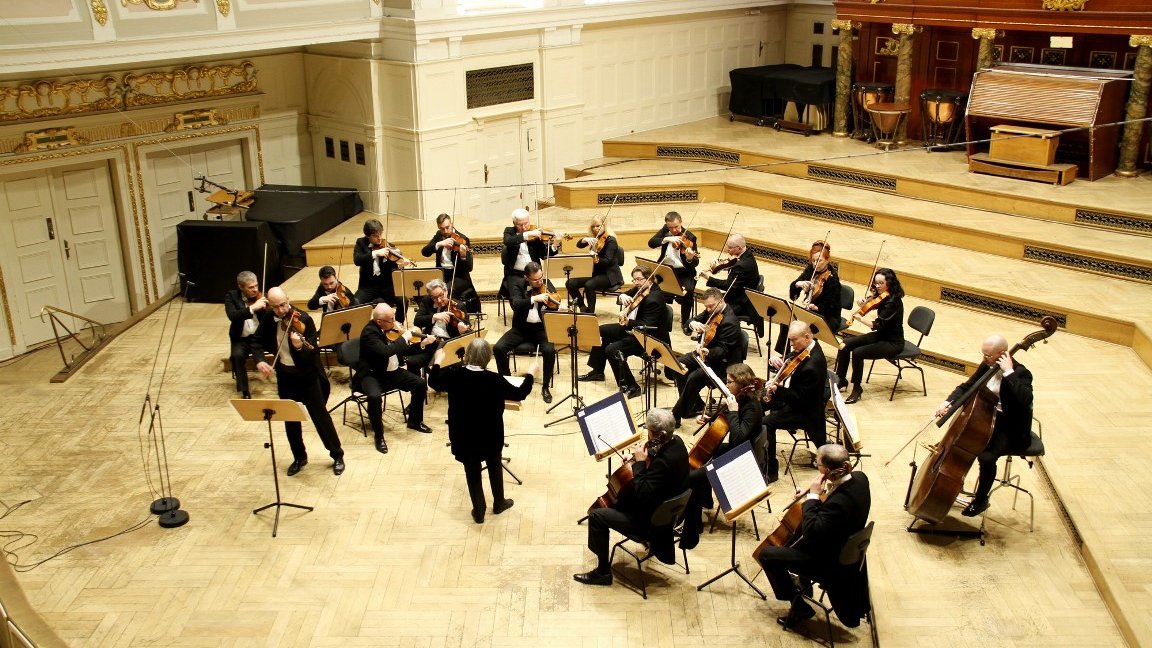 Agnieszka Duczmal has proved that a woman can be a successful conductor. She has paved the way for successive generations of women looking to lead their orchestras. Born in Krotoszyn, Duczmal has performed in La Scala in Milan, and has been called La Donna del Mondo (Woman of the World). Her outstanding musical achievements are appreciated by audience members, critics, musicians and composers alike. Many pieces have been written for her and her band: the Amadeus Chamber Orchestra of the Polish Radio. One of them kicked off the concert on the conductor's jubilee.
Tenderness, light and pain
Serenata per archi was not the first piece that Jacek Rabiński wrote for Agnieszka Duczmal and her musicians. Contrary to fads and the expectations of the avant-garde, his compositions are strictly tonal. His unique musical language, which he refers to as "absolute tonality", relies exclusively on notes from a given scale. This makes his music thoroughly clean, smooth and harmonious. Serenata per archi is a piece from a short musical genre in which Agnieszka Duczmal displays a quality for which she is so loved as an artist. "Unmatched in setting the timbre for the orchestra", she was dubbed a conductor "with an enchanted baton". Rabiński's harmonious and slightly idyllic sound would hardly be remembered had it not been for her naturally song-like, simple rendition with utmost care given to sound quality. Its gentle, soft phrases overflow with tenderness and light.
Another piece heard that night was Concerto for Violin and String Orchestra by Ralph Vaughan Williams, a rarely played and relatively unknown composition by the English composer. His work is described as "characteristically English". Here's how Peter Ackroyd describes it in one of his books: "If that Englishness in music can be encapsulated in words at all, those words would probably be: ostensibly familiar and commonplace, yet deep and mystical as well as lyrical, melodic, melancholic, and nostalgic yet timeless".
The Concerto for Violin and Orchestra alludes to baroque music with a dab of neoclassicism. The piece pays tribute to Bach's Concerto for Two Violins. The two share drama and an internal dynamic. Williams wrote it in 1925, a time when vivid memories of his active involvement in the Great War would still weigh heavily on his work. Researchers detect emotional restraint in the Concerto which sets it apart from Williams' other work.
The Amadeus Orchestra's rendition of the piece surprised audiences with its highly intellectual interpretation and a musical presentation of the forms, styles and compositional techniques of the 20th century that Williams had spirited into the piece. This somewhat strict, formal approach created emotional distance. On the other hand, the soloist Jarosław Żołnierczyk (the Orchestra's concertmaster) offered a very personal, tense and at times torturous interpretation. The end result was delightful in its elegance, precision and consistency of sound.
The Orchestra tells a story
The concert ended with the wonderful Scheherazade by Nikolai Rimsky-Korsakov. Credit for bringing a version of the piece, intended originally as a symphony orchestra suite, performed by Amadeus, to the public goes to Agnieszka Duczmal and yet another particular outstanding talent of hers. An unparalleled arranger, she makes sure her orchestra's repertoire stays virtually unlimited. Rimsky-Korsakov's symphonic poem is based on the main theme of a folk tale from One Thousand and One Nights. The titular character Scheherazade is a wife of a cruel Sultan, who, convinced of the infidelity of all his wives, proceeds to kill them. The protagonist escapes this fate by telling stories that occupy and distract the Sultan keeping him from carrying out another execution. The power of storytelling in Korsakov's piece is rendered through recurring musical motifs of Scheherazade and the Sultan, masterful stunning instrumentals, brilliantly inventive rhythms and tunes, and the addition of oriental and folk motifs. The Orchestra's line-up of string instruments does little to diminish the timbre. Agnieszka Duczmal's orchestra have honed their musical storytelling to perfection. The closing piece of the night enchants the audience with the richness and vividness of its sound, its captivating drama and its unmatched energy.
At the age of 75, people no longer have to do anything but can do whatever they please. Agnieszka Duczmal does not need to assert her status in the musical world, her mastery being clear to hear for all listeners of her jubilee concert. However, she may, and I am confident she will on more than one occasion, surprise audiences with new interpretations, enhance their sensitivity to the sound of strings, present new music and direct them to less obvious musical territories. She can teach us to be delighted. All that remains for us to do is to wish her a happy birthday. May La Donna del Mondo live to be a hundred!
Aleksandra Kujawiak
translation: Krzysztof Kotkowski
concert by Amadeus Polish Radio Chamber Orchestra marking Agnieszka Duczmal's 75th birthday
premiere on 29 January
concert available online on the YouTube channel of Polish Radio, with an introduction in Polish
© Wydawnictwo Miejskie Posnania 2021