Berliners on the Warta
In the closing bars of The Master-Singers of Nuremberg, Wagner praises the sanctity of German art in the voice of the choir. For long centuries, such art has indeed been a benchmark for the rest of Europe, the German mastery of the arts being admired (and at times envied) by artists and art lovers alike. An opportunity to find out just how good German art really is will present itself on 10 December.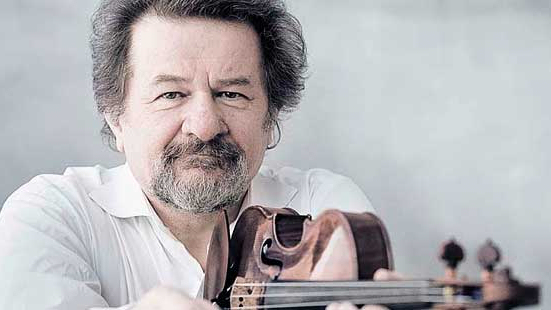 One of the latest projects by the Poznań Philharmonic is a series of concerts featuring outstanding musicians associated with the Berlin Philharmonic. The common thread that ties the concerts together, which is the affiliation of all the musicians with the Berlin Philharmonic, does not mean that all of the artists are going to be German. In fact, the series is an opportunity to see people from various parts of the globe perform on stage. The first concert features Mari Eriksmoen, a Norwegian soprano know for touring the world, Daniel Stabrawa, a long-time concertmaster with the Berlin Philharmonic, and Piotr Maćkowiak, an oboist associated with the Poznań Philharmonic (who will play English horn during one of the concerts). The Poznań Philharmonic Orchestra will be conducted by Eivind Gullberg Jensen, an artist with vast experience working with German orchestras.
The event's programme will likely satisfy both the fans of classical music and those of less known, but equally remarkable varieties. It includes Adagietto from Krzysztof Penderecki's opera Paradise Lost. Commissioned to mark the 200th anniversary of the independence of the United States, the piece is a voluminous sacro rappresentazione (a term used for medieval and renaissance religious theatre performances). Its libretto, based on a seventeenth-century poem by John Milton, describes the story of Adam and Eve immediately after their expulsion from the Garden of Eden and the reaction of angels and demons to the tragedy that struck the first people. The second piece is a song cycle by Benjamin Britten with verse and prose from Arthur Rimbaud's Les Illuminations, Op. 18 for string orchestra and high voice.
The performance will culminate with a composition that belongs to the purest of violin classics, Ludwig van Beethoven's Violin Concerto in D major, Op. 61. The unflattering early critical reviews about this 1806 piece (the concert was blamed for inconsistency and multiple repetitions of banal musical motifs) did not stop its rise to popularity and its inclusion in the canon of violin repertoire alongside other famous D major violin concertos (by Brahms and Tchaikovsky) and the Mendelssohn-Bartholdy's concerto in E minor.
Kamil Zofiński
translation: Krzysztof Kotkowski
Concert: Musicians of the Berlin Philharmonic in the Poznań Philharmonic, cond. by Eivind Gullberg Jensen
10 December, 7pm
Adam Mickiewicz University Auditorium
Admission: PLN 40-65
© Wydawnictwo Miejskie Posnania 2020