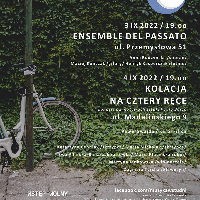 Concert: Music in a Well
2022-09-03 ( Saturday ) – 2022-09-04 ( Sun )
various venues, Poznań
Looming ahead is the sixth edition of the Music in a Well series of old (Renaissance and Baroque) music concerts held in townhouses and townhouse courtyards in the Wilda district of Poznań by youth city's musicians specialising in historical renditions.
The organisers will take advantage of the inherent acoustics of historic tenement houses and the "home" settings of the Wilda district's courtyards, staircases, and gateways, turning them into concert venues to reach out to their dwellers as a natural audience.
Two concerts have been scheduled for this year. One will gravitate towards the sound of the Renaissance and especially 1622. Ensemble del Passato on lute and theorbo (a Renaissance guitar) will present songs and instrumentals from exactly four centuries ago. The other will pay tribute to Johann Sebastian Bach and Georg Friedrich Handel.
◥ Concert by Ensemble del Passato - 3 September, 7pm, courtyard on ul. Przemysłowa 51, admission free
Anna Budzyńska, soprano; Maciej Kończak, guitars; Henryk Kasperczak, lutes
◥ Dinner in Four Hands: a concert based on excerpts from a play by Paul Barz - 4 September, 7pm, ul. Madalińskiego 9, admission free

Featuring Paweł Swajda and Karol Filich, a historical instruments ensemble with Katarzyna Cendlak on baroque violin, Marta Michalak on baroque violin, Ewa Pilarska Banaszak on viola, Maria Plucińska on oboe, Martyna Jankowska on cello, and Dagmara Tyrcha on harpsichord.