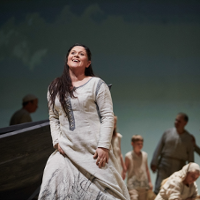 Two rivals. Doman the fisherman and Lubor the merchant, seek to marry Bogna. Her father, favouring the wealthy Lubor, sends Dorman off to find the crown of Jurate, the legendry ruler of a sunken city, hoping to never see him again... Will justice overcome the waves of intrigue? 
Nearly a hundred years after its world premiere, Feliks Nowowiejski's The Baltic Legend returns to the stage of the Poznan Opera House. The author of the music to Rota and the Quo vadis oratorio lived and worked in Poznan. The opera, inspired by the Slavic legend of the sunken city Vineta, abounds in folk motifs, a romantic plot filled with twists, and monumental choir parts. Doman's aria So you love me, was made famous by Jan Kiepura, who performed it worldwide.
The fairy-tale world of water nymphs, demons, and marine dephts will be revived by reputed choreographer of the young generation, Robert Bondara. Maestro Tadeusz Kozłowski will be responsible for the accurate performance of Nowowiejski's score. The premiere will end the 140th anniversary of the composer's birth, which falls in 2017.
See more details here